Digital Lyme Times, Summer 2017: "Lyme Brain" and more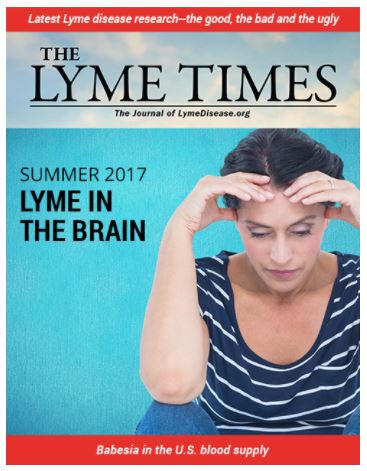 The latest issue of the digital Lyme Times includes a book excerpt from "Lyme Brain," by Dr. Nicola McFadzean Ducharme, an interview with musician Daryl Hall, articles about the psychiatric manifestations of Lyme, Babesia in the US blood supply, recent Lyme research, patient stories, Lyme advocacy and much more.
It has an easy-to-read format. You can access every issue—including those in our extensive archive—on your computer, tablet or mobile phone. You can also print out your favorite articles.
If you are a member of LymeDisease.org, you simply need to log into our website and start reading. Special issues provide comprehensive coverage on various topics such as pediatric Lyme, integrative medicine, and insurance challenges.
The perks of membership don't stop with the Lyme Times. Members can watch educational videos featuring renowned doctors who specialize in Lyme, and access key resources regarding insurance, disability, treatment guidelines, and health care policy. There are links to helpful organizations.
Most importantly, your membership helps us continue our important work. We fight to make the patient voice stronger, to support science-based advocacy, to create legislative change, and to create a future where people with Lyme and other tick-borne diseases can receive the treatments they need to get well.
We are the largest communications network for Lyme disease and a trusted source of information for the Lyme community. We put patients at the center and drive health care policy and science from the inside out. Our big data project, MyLymeData, is the largest study of Lyme disease ever conducted. There is strength in numbers. Won't you join us?
Click here to read the Table of Contents for the Summer 2017 issue of the Lyme Times.