LymeDisease.org recently submitted comments to the Office of Civil Rights (OCR) about proposed changes to the Health Insurance Portability and Accountability Act (HIPAA.) These changes would diminish patient privacy protections, and could possibly expose Lyme patients to a greater risk of stigma, discrimination, and disclosure of their health information without their knowledge or consent. You can read the actual comments themselves here.
Before we developed or submitted our comments to the OCR, we asked Lyme patients what they thought. In this case, we wanted to know how much Lyme patients care about their medical privacy. Do they worry that someone might misuse their healthcare data? Do they face stigma or discrimination because of their illness? Who do they tell about their Lyme disease? You can download the results of our stigma and privacy survey.
MyLymeData surveyed patients on topic of privacy
To determine this, we surveyed more than 1,900 patients enrolled in the MyLymeData registry on the topic of privacy, data use, trust, discrimination and stigma between November 5, 2018 and February 2, 2019. The results showed that patients face disrespect and discrimination both within and outside the healthcare system. They also worry that healthcare data might be used against them by employers, insurers, and other healthcare providers. 78% of respondents were concerned about the privacy of their healthcare data generally.
One respondent sums up the things that patients worry about, saying:
I think people are leery to share personal information because of how it is used by their job, insurance or government, which can all be untrustworthy. Sadly, people in our position have been discriminated against in one way or another."
— Survey Respondent
Lyme disease stigma affects access to care
Patients also told us that the stigma of Lyme disease profoundly affects their access to care. The majority said they have been treated disrespectfully by a healthcare provider (74%) or have postponed or avoided medical treatment due to discrimination, disrespect or difficulty obtaining care (67%).
When we asked patients about their comfort level with physicians accessing their healthcare data, most reported that they trusted the physician who treated their Lyme disease (75%). However, less than half (41%) had the same level of trust for their other healthcare providers, and fewer still (18%) for physicians not involved in their healthcare. Hence, patient consent to share healthcare data with physicians other than their treating physicians is very important.
Lyme disease patients concerned about the use of their health data
Roughly half of respondents reported being concerned about the use of their health data by the government (56%) and pharmacies (49%), with a higher number expressing such concern about drug company data use (60%).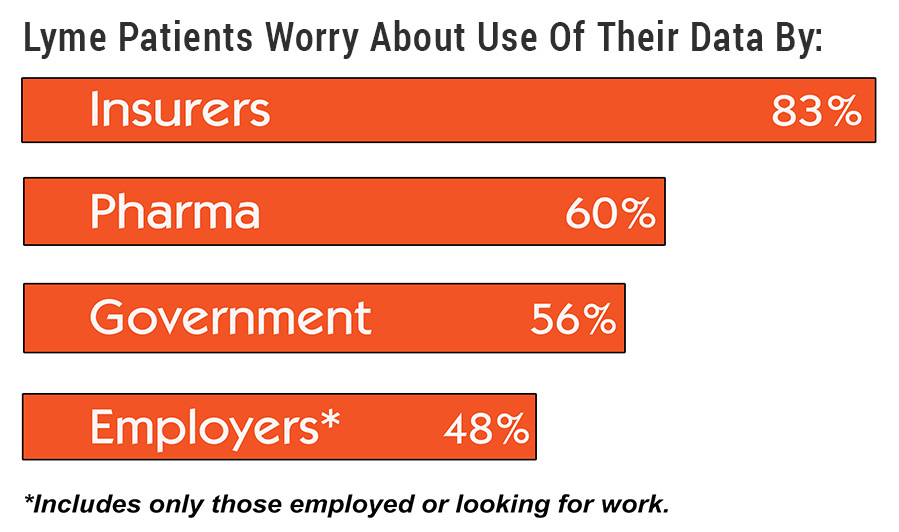 Over 80% were concerned that an insurer might use their healthcare data to deny coverage in the future as a pre-existing condition. Approximately half of those employed or looking for employment (48%) worried that employers might use healthcare data to limit their career opportunities. Only 26% reported having told an employer about their Lyme disease.
The bottom line is that Lyme patients care deeply about protecting their own privacy.
In addition, patients are concerned with how healthcare data from Lyme disease patients is used. This is especially true when the data includes personally identifiable information, such as name or social security number. When patients don't consent to share their data, they worry that it may be used to harm them through discrimination by others, including insurers, employers, and even other physicians involved in their care.
However, even data that is de-identified—that does not include any personally identifiable information–can harm the community and patients with Lyme disease when it is misused. A good example would be when a researcher with a bias seeks to use information to dismiss or diminish the concerns of patients. This survey showed that patients do not want their health data to be used for purposes that do not benefit patients and they do not want their data subject to researcher bias.
The data underlying the MyLymeData Lyme Disease Stigma and Privacy Survey Results are publicly available on FigShare.
If you are a patient who is not enrolled in MyLymeData,  please enroll today. If you are a researcher who wants to collaborate with us, please contact me directly.
The MyLymeData Viz Blog is written by Lorraine Johnson, JD, MBA, who is the Chief Executive Officer of LymeDisease.org. You can contact her at lbjohnson@lymedisease.org. On Twitter, follow her @lymepolicywonk.