IDSA Lyme protest in San Diego Oct 9-10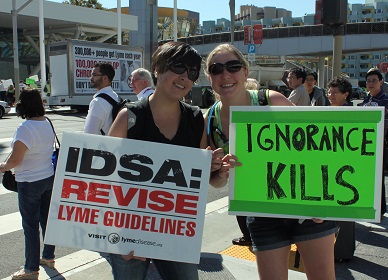 Lyme disease patients and advocates will demonstrate outside the Infectious Diseases Society of America's (IDSA) Annual Conference in San Diego Oct. 9-10. All events will take place across from the San Diego Convention Center, 5th Avenue and Harbor Drive. (Right next to the Gaslamp Quarter trolley station.)
There are a variety of activities at different times. Come for all of it or some of it, whichever works for you.
Friday, Oct. 9—Rally for Change—9 am to 3 pm. (Assorted activities.)
Friday, Oct. 9—Candlelight vigil to honor those who have lost their lives to Lyme disease. Music, inspirational speakers, West Coast dedication of Lyme Quilt. (This will be live-streamed. Stay tuned for details.)
Saturday, Oct 10—Rally for Change, 9 am to 3 pm. (Assorted activities.)
Our special message truck will be circling the Convention Center throughout the conference.
Why we do this:
The CDC estimates that there are more than 300,000 cases of Lyme disease every year in the United States. However, many experts dispute that, saying that true number is likely well over a million. Yet, because of rampant "Lyme denialism" by the CDC and the medical establishment, hundreds of thousands of additional cases of Lyme disease go undiagnosed and untreated—and people are left to suffer.
Lyme denialism starts with Lyme treatment guidelines put forth by the Infectious Diseases Society of America (IDSA), a group that is meeting in San Diego Oct 7-11. The guidelines of this private medical association define Lyme disease so narrowly that many people are denied treatment altogether. Based on these guidelines, even people in the early stages of the disease—when they can be most easily cured—are often told they don't have Lyme and are refused proper medical care.
This sets the stage for the disease to become chronic, burrowing into the body and potentially causing a lifetime of misery and disability. Furthermore, the IDSA also denies the existence of chronic Lyme, as people get sicker and sicker.
Yet, the CDC continues to endorse the IDSA Lyme guidelines, and insurance companies use the guidelines to deny payment for Lyme treatment.
Click here for more information about why we protest against the IDSA. 
This event is being co-sponsored by LymeDisease.org, the Mayday Project, the San Diego Lyme Disease Support Group. TMP will live-stream it during certain hours. Click here for details of how you can sign up to watch the live stream.