TOUCHED BY LYME: How can you live with yourselves, IDSA?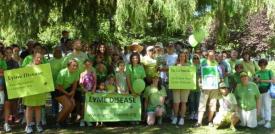 Examining the huge disconnect between actual Lyme patients and those who set medical policy.
Saturday, I spent a beautiful Sacramento afternoon with about 75 people at the first of the 2011 CALDA Lymewalks. (To be followed by other events in San Francisco, Los Angeles and San Diego.) We had a real cross section of Lyme patients and their support people. Some had been battling Lyme for years. Others were new to the fight. Some have recovered their health. Others, not so much.
Here are a few of the people who were there:
A young mother and her two children, all recently diagnosed with Lyme, having a hard time with treatment. They brought their support posse with them: the husband/dad, four grandparents, and family friends, all eager to learn more about how they can help their loved ones.
A twenty-eight year old father of two, now in a wheelchair, who caught Lyme seven years ago while serving our country in the US Army.
A mom with Lyme, her daughter with Lyme-induced autism, and family members.
The husband of a woman with profound neurological Lyme. After caring for her for many years, he has recently been diagnosed with Lyme himself.
Our inspirational speaker, Pamela O'Kane, overcame serious debilitation from Lyme to become a world-class triathlete. Then, while in Budapest last year to compete in the world championships with TeamUSA, she caught a parasite while swimming in the polluted Danube River.The toll that parasite took on her body eventually triggered a return of Lyme symptoms (tremors, seizures) she hadn't experienced in several years. She went back on treatment, beat back this latest flare of symptoms, and is competing again on the national level. Her message to the crowd: Don't give up.
There were children and teenagers and adults of all ages. People who have had Lyme since birth or childhood, others recently infected. People with wheelchairs or canes. People who used to need wheelchairs or canes, and now can run or bike many miles a day. Some had supportive families, others were totally on their own.
After the event, I returned home to find someone had emailed me a link to a Lyme disease video posted on the IDSA website. (For newcomers to the Lyme world, the Infectious Diseases Society of America is a private medical association that is essentially allowed to set US government policy on Lyme disease. The IDSA's asinine Lyme treatment guidelines of 2006—heavily contested by the Lyme community—are a major reason Lyme patients are routinely denied access to appropriate medical care.)
The video is 2 minutes and 17 seconds long. A beautiful young woman shares how she once had "Lymes," went to the doctor and got 14 days of oral antibiotics. By the 3rd dose, she was feeling great, and her biggest problem was remembering to finish the rest of her medication, since she didn't feel sick anymore!
Her statements are interwoven with explanation from an IDSA honcho. He observes that Lyme disease "can be associated with feeling poorly," but assures the audience that 14 days of oral antibiotics will fix it. Except, he says, for a few people with a swollen knee or neurological involvement, who might need up to four weeks of medication.He adds that some people with Lyme don't need any treatment at all, since the body's immune system will take care of it. Then the video cuts back to the beautiful young woman, who sums up the theme of the film: Lyme disease is "no big deal." 
What planet do these IDSA people inhabit? If their 14-day protocol worked, untold thousands of Lyme patients would be as peppy and (apparently) healthy as that blond in the video. But THEY'RE NOT! They are sick and in pain. They may have tremors and seizures and difficulties swallowing and digesting food. They can't sleep at night. Some have allergies and chemical sensitivities. Sometimes they can't get the right words out.
And what do you do, IDSA? You deny them treatment and instead offer a dippy little video saying Lyme disease is "no big deal."
Two more questions, IDSA:
One, who in the world thought this video was a good idea? And two, how in the world do you live with yourselves?
TOUCHED BY LYME is written by Dorothy Kupcha Leland, CALDA's VP for Education and Outreach. Contact her at dleland@lymedisease.org.