HARDSCIENCEONLYME: Researchers Discover New Tick-Borne Illness Caused by Borrelia miyamotoi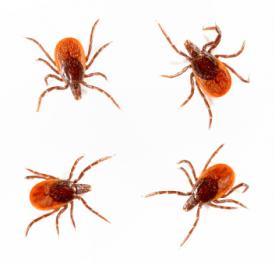 Researchers have recently discovered that another species of Borrelia transmitted by deer ticks causes illness. The species, Borrelia miyamotoi, was discovered in Japan in 1995, but occurs in Asia, Europe and North America as well. A new study confirms that B. miyamotoi causes human disease "including relapsing disease that may last for months and may not respond to inappropriate antimicrobial drug therapy." Because B. miyamotoi is transmitted by an array of ixodid ticks and can be passed via the ovaries from one tick generation to the next, it "greatly expands the potential geographic distribution of this disease". The study notes that further investigation of possible B. miyamotoi infection in humans is warranted wherever I. pacificus, I. persulcatus, I. ricinus, and I. scapularis ticks are found.
Researchers from Russia worked with Drs. Durland Fish and Peter Krause of Yale to demonstrate that the B. miyamotoi caused human illness.
Platonov AE, Karan LS, Kolyasnikova NM, Makhneva NA, Toporkova MG, Maleev VV, et al. Humans infected with relapsing fever spirochete Borrelia miyamotoi, Russia. Emerg Infect Dis. 2011 Oct; [Epub ahead of print]
Transoverian transmittion of B. miyamotoi is discussed here.
The HARD SCIENCE ON LYME blog is written by Lorraine Johnson, JD, MBA, who is CALDA's Chief Executive Officer. Contact her at lbjohnson@lymedisease.org.