Help! A Tick Bit Me!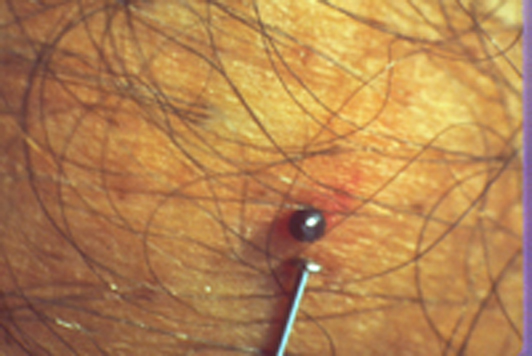 By Phyllis Mervine, President of LymeDisease.org     In many parts of the country, nymphal ticks are active now. They are the life stage most often associated with humans getting Lyme. An ounce of prevention is worth a pound of cure. Take a minute to educate yourself about where ticks are found and how long it takes for them to transmit any diseases they carry HERE.
If a tick bites you, it's important to remove it properly. Use tweezers! Don't burn or twist or mutilate! Here are instructions.
Scroll down the page for free tick testing. BUT… You'll have to decide if you want to get immediate prophylactic treatment with antibiotics or wait for the test to come back. To do that you need to calculate the risks and benefits of your options. Which is worse: treating a disease you don't have, or not treating a disease you do have? People have different answers to this question.
Not all ticks carry Lyme disease. I'd want to know the tick infection rate in my area. Is it low or high? What are the chances my tick was infected? The average nymphal tick infection rate in Mendocino County, where I live, is 7%. That means if I get 100 tick bites, I have 7 chances of becoming infected. You might be able to find information for your area on your state's public health department's website though research has not been done everywhere. Another way too get an idea of tick-borne diseases found in your state is to check this site.
Even if it was infected, was it on me long enough to transmit the infection? (The risk goes up the longer it is biting.) Did I remove it properly?
If you opt for  immediate treatment, you have to find a doctor. You need to figure out how long is long enough to treat, and with what. You may have side effects. Your doctor may appreciate having access to the most up-to-date guidelines on Lyme and other tick-borne diseases. You can access them on the website of the International Lyme and Associated Diseases Society.
If you don't treat and you actually did get infected, you might soon get some sign, like a rash or a flu-like illness. You can still get treated then, and the chance of full recovery is good. However, be aware that people usually develop a red area around a tick bite, and it doesn't necessarily indicate a Lyme infection.
If you do find a tick you can identify it by looking at this chart created by Tom Mather at the University of Rhode Island. In fact, his whole website is pretty interesting. You might want to become a TickSpotter and help Dr. Mather collect data on tick activity in different parts of the country. Click on the blue area button to see what's happening in your state.
What you do if you are bitten by a tick is an individual choice based on your own values and preferences, and discussed with your healthcare provider. Do yourself a favor and have as much information as you can before it happens. And let's hope that with proper prevention methods, it won't happen!