NEWS: NASCAR helmet to help spread the word about Lyme disease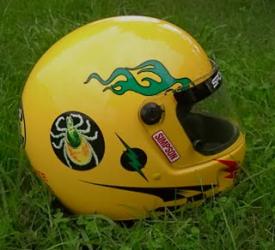 Last spring, the Lyme Disease Awareness Car garnered enough votes in the on-line "Sponsifier" race to win an official NASCAR helmet. The helmet will make some publicity rounds, and then will be enshrined at the office of Dr. Charles Ray Jones, so children he treats may enjoy seeing it.
From a "Treat the Bite" press release:
The Prize Has Finally Arrived!  
The Racing Lyme Disease Awareness Car placed first in the "Most Votes" category, and made it into the Final Top 10.  The prize for doing an outstanding job to "Race" Lyme Disease Awareness was a custom designed NASCAR helmet.  To see pictures of the helmet, click here.  
This year's theme was "Get it Right, Treat the Bite".  You can access the new website by clicking on this link. 
Description-  The super classy Simpson helmet looks rather heavy, but actually only weighs about 5 pounds.  It is about as big around as a basketball and the metallic paint makes it sparkle in the sun light.  It has a nice padded interior, but that doesn't mean you would want to keep it on your head for any length of time.  (I tried)  The tinted sun visor is perfect for keeping down the glare, but does pose a problem when trying to eat or drink when it is pulled down over your face.  (I tried)  
The custom paint was applied by factory experts and matches the original Racing Lyme Disease Awareness car design.  As you may know, a NASCAR helmet must be built to withstand high impact crashes, flying debris and it must protect the driver in the event of a fire.  As an added bonus, this sturdy helmet was specially designed to protect people from the IDSA Lyme Disease Guidelines too.  ~smile~
After making the publicity rounds, the helmet (valued at $1,200.00) will be shipped to the office of Dr. Charles Ray Jones in Connecticut for a visit with the many children coming to him for treatment of their Lyme and tick borne diseases.  Please remember Dr. Jones, his kids and his wonderful staff year round.
If you can assist them in any way, please do.  www.DrJonesKids.com
A special thanks to JG and the LN Pit Crew, and to all who promoted and voted for the 2011 Lyme Disease Awareness Race Car that rolled off the assembly line in time for our annual May is Lyme Disease Awareness Month activities.  You did an awesome job!  
So, congratulations, and same time, same place, next year!  Vrrrrrrooooooommmmm…