NEWS: Climate change brings Lyme disease to Great Lakes region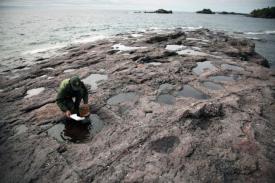 According to major studies released by two environmental groups, global climate change is contributing to a rise in disease-carrying ticks in places that didn't used to have them.
From the Star Tribune:
More deer ticks, fewer loons:
Climate change on the Great Lakes
Two environmental groups warn of more damage by midcentury.
Isle Royale in Lake Superior used to be too cold for deer ticks. But not anymore.
The ticks, which carry Lyme disease, have been found for the first time on the island off the coast of northern Minnesota. And by the end of the century, nesting loons may disappear altogether from most of the Great Lakes.
Those are some of the findings of a report on the effects of climate change on the Great Lakes' five largest national parks, made public Wednesday by two environmental groups, the Natural Resources Defense Council and the Rocky Mountain Climate Organization.
It was the latest in a series of studies they have conducted on the current and future effects of a warming global climate on national parks from California to Virginia.
Click here to read the rest of the article.