"Little things," docudrama about Lyme, Collegeville, PA
October 13, 2018 @ 6:30 pm

-

9:00 pm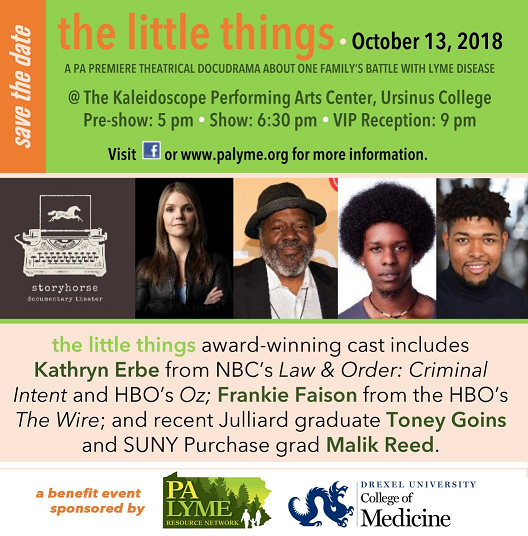 "the little things" is a docudrama based on the life and death of Joseph Elone, a New York teenager who died from unrecognized Lyme disease in 2013.
The stage presentation will be followed by an expert panel discussion including:
Mary Beth Pfeiffer, author of "Lyme: The First Epidemic Of Climate Change"
Garth Ehrlich, Ph.D., of Drexel University College of Medicine
Marina Makous, MD, former professor at Columbia University's Lyme and Tick-borne Diseases Research Center
Martin Mulders, MD, local internist focusing on chronic illness and integrative medicine
Nicole Chinnici, MS, forensic scientist and Director of the Northeast Wildlife DNA Lab, the largest tick research center in Pennsylvania, and
Julia Wagner, MBA, President of the PA Lyme Resource Network.
A special VIP reception with Davidson, Masterson, the cast, and panelists will follow the event.