A eulogy for Dr. Charles Ray Jones, by friends and admirers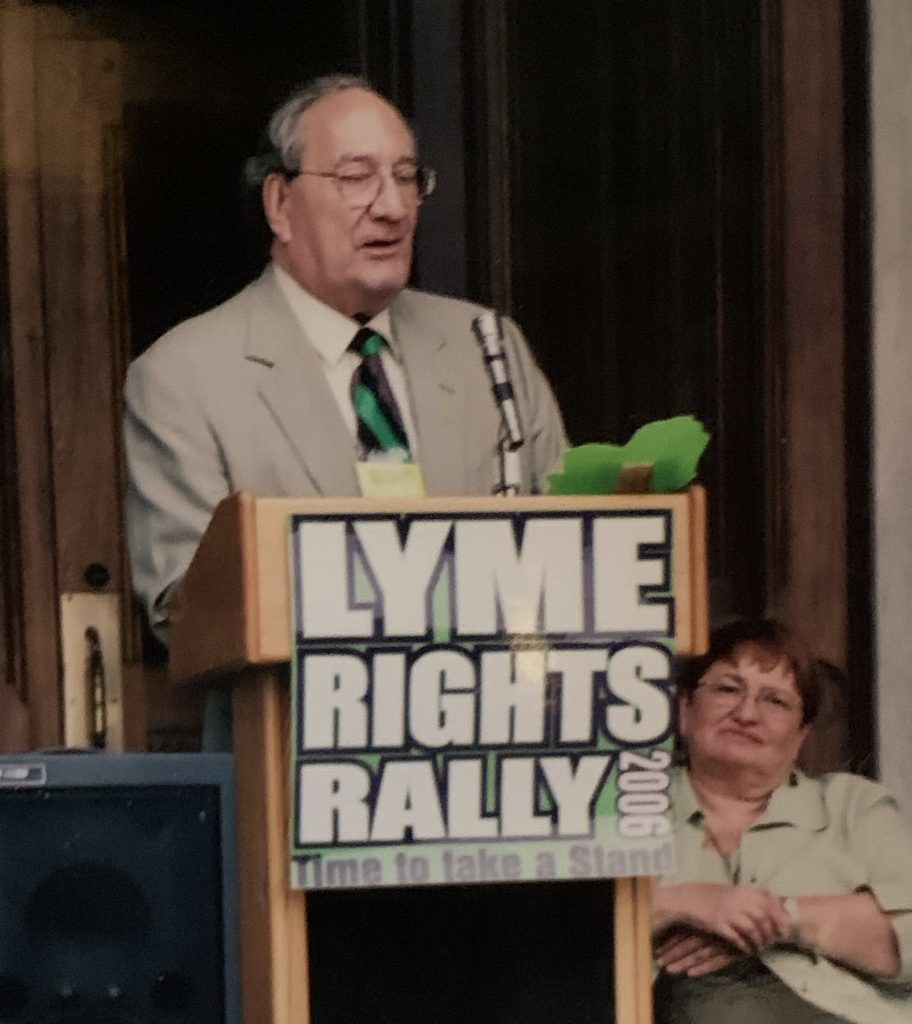 by Sandy Berenbaum, LCSW, BCD

 "…one should try to live each day in such a way that something could be done of significance that will echo through eternity."
These are the words Dr. Charles Ray Jones lived by.
With Dr. Jones everything was personal, especially his relationship with the tens of thousands of children he treated seven days a week, coming from all 50 states and five continents.
Also personal was how he refused to back down through the many years he fought the Connecticut Medical Examining Board to keep his license. He did this not just for his own sake, but for the many physicians around the country being targeted by medical boards for daring to treat people for Lyme disease.
Dr. Jones attended Lyme conferences regularly, even into his 90s, to teach his colleagues and to learn from them. He was the expert on pediatric tick-borne disease, yet he was always open to new ideas.
Dr. Jones was a man of great integrity and courage. In 2005, he accepted my invitation to write the keynote article for the Lyme Times Children's Treatment Issue. Of course, he did an outstanding job, in collaboration with Steve Harris, MD. (You can read an excerpt of that article here: Dr. Jones' still-relevant advice on children with Lyme disease)
Shedding light where it was needed
The entire article sheds light on the suffering of the kids, and how this extremely talented and compassionate pediatrician helped each child to feel safe and to heal. In the article, Dr. Jones describes how he examined children with a wide array of symptoms, and even addressed the purpose those symptoms serve.
Here's an example: "Many kids maintain constant motion in order to stay focused." His words in that 17-year-old Lyme Times issue are as true today as they were back then, with symptoms children demonstrate, inadequacy of conventional testing, misdiagnosis of tick-borne diseases as other conditions.  Of particular interest to me is how he addressed the misdiagnosis of Lyme as a mental illness.
Dr. Jones never judged these children and was always respectful to parents. He warmly welcomed families to his office, no matter how many family members came.
Many people know that medicine was not Dr. Jones' first calling. Initially, he attended divinity school and planned to become a minister. When a woman called out to him: "Please heal me!" he realized that medicine, not the ministry, was his calling.
That's what led him to become a doctor. And we are all grateful that, in doing so, he followed his heart as well as his head, and he never wavered from the truth.
He did not, however, leave his ministry completely behind.  In introducing him at a conference, I once noted that he marched twice with Dr. Martin Luther King. From his seat in front of the podium, in his quiet voice, he corrected me, saying "Sandy, it was three times."
Dr. Jones, of blessed memory, has certainly lived a life in which his deeds were of incredible significance and will echo through eternity.
The following are the words of some of those who knew and loved him.
A beacon for us all
Dr. Charles Ray Jones was the greatest Lyme-literate pediatrician to have ever lived.  He gave us all such enormous gifts. To have experienced the brilliance of his "doctors' gaze," his heart of gold, his personal story as a longbowman and the toll his endeavors took on his body; his tracksuit bottoms and matching jackets, his memory, acerbic wit and his sagacity are manifest treasures to carry close at hand to help the rest of us continue in his stead.
Ray—as I called him in more recent years, even though he will always be Dr. Jones—was not just a hero, but a phenomenon, a beacon for all of us caring for patients or being cared for by others. His guidance for so many of us personally and professionally and his sharing of an almost limitless fund of knowledge and experience allow the torch to be passed. But his generosity of spirit, his dharma and his legend are his alone. Dr. Jones will be deeply missed but will remain an inspiration for generations of Lyme doctors and patients to come.
Steve Harris, MD
Pacific Frontier Medical
Foster City, CA
No child turned away
As a 14-year-old, I was a summer intern at St. Luke's Medical Center in NYC. One day, out of the elevator stepped a doctor who towered over me. He set me to the task of helping with his research.
Twenty-five years later, I opened my internal medicine practice in Armonk, NY., seeing more and more Lyme disease patients I heard of a pediatrician who was treating children with Lyme, eventually speaking to him, and meeting him. I soon realized that this was the same person who had towered over me when I was a teen, volunteering at that summer job.
It also became clear that he was 'the Master' when it came to the care of children suffering from Lyme disease. He viewed his role as a 'calling' and not merely a profession. He never turned a child away, working straight through Saturdays and Sundays for decades and decades. His excellent clinical and observational skills and intelligence enabled him to guide so many dreadfully ill children back to health from severe debilitation.
His practice embodied the highest virtues of both medical practice and spiritual care of suffering persons. He cared little about money, but his example has served to enrich all of us.
Rest in peace, Dr. Jones!
Ken Liegner, MD
Private Practice
Pawling, NY
Integrity, compassion, humility
Sometimes we're blessed to have great men walk the earth–those who devote their lives to helping others without thought for themselves. Such a man was Dr. Charles Ray Jones, healer–honest, kind, courageous and had integrity, compassion, and humility.  His devotion to helping our children all over the US is unparalleled. I knew him for decades yet never heard him complain, despite the many trials he faced in his life just trying to save the lives of our children
Pat Smith, President
Lyme Disease Association
He bonded with the kids he cared for
I don't know what I liked about Dr. Jones more—his expertise, warmth, and amazing ability to bond with the kids he cared for, or his sharp wit, easy but incredibly insightful humor and general joy of life. Rarely do all of these coexist in a single person. Those of us lucky enough to have experienced him in his full glory will never, ever forget him. Rest in peace, friend.
Joe Burrascano, MD
Lyme Warrior
Vigor and commitment
It startles me a little to think that my more than 20 years' acquaintance with Dr. Charles Ray Jones began after he had reached the usual age of retirement! His vigor and his commitment to the care of children remained strong and effective. His perseverance, openness, clear-thinking, and ability to translate knowledge gained from his many other medical experiences brought true excellence to his care of children with Lyme and other tick-borne diseases. Because of the depth and breadth of his background, he was able to reach out higher and deeper in pursuit of children's recovery.
His generosity as a teacher and mentor was a gift to me and to many others. Ray's life, his compassion, and his humor have been a blessing to so many. I wish we had had the chance to go flying up to Rangley, Ray.
May his memory be a blessing.
Bea Szantyr, MD, FAAP
Lincoln, Maine
A trailblazer
He was a true trailblazer on how to treat kids with Lyme disease. He did not hesitate to try anything to help those kids. Without him, thousands of children would not grow up with a chance to have a meaningful life.
We will miss him so much!
Eva Sapi, PhD, Professor
Dept. of Biology and Environmental Science
University of New Haven
Straightforward and calm
When I helped represent Dr. Jones legally, I was struck by how straightforward he was in the face of adversity. How calmly and simply he told the story — never taking the bait or rising to anger. His focus remained steadfast on being able to treat the children under his care. It was an honor to work on his team.
Lorraine Johnson
Attorney for Dr. Jones
CEO – LymeDisease.org
Courage and commitment
As his attorney, it was an incredible honor and privilege to represent him. It is difficult to think of another client who could match Dr. Jones's integrity, knowledge, courage and commitment to his patients who were devoted to him and deeply appreciated his skill and clinical excellence.
Elliott B. Pollack
Attorney for Dr. Jones
He gave hope to suffering children
There were days my heart was full watching Dr. Jones interact with his children and their parents. They walked in feeling broken, abused by the medical system, and lost. After seeing Dr. Jones, they believed they were fixable and there was hope. The transformation was magical.
Bonnie Friedman
Dr. Jones' Office Manager
He inspired many to become Lyme advocates
Dr. Jones gave us hope. When I brought my kids to him, I left his office feeling hopeful. When I worked for him, I saw other mothers coming in with their kids. When they left, they also had hope. To each child, he said, "You are fixable!" Simple words, but they meant a lot.
Dr. Jones inspired us.  Many of us went on to become Lyme advocates. Here in Connecticut, the moms started Lyme support groups and organizations, working together on Lyme education, advocacy, legislation, and fundraising for research, following Dr. Jones' inspiration.
We met and got to know each other through events in Dr. Jones' name.  Our gratitude led us to hold his 75th birthday celebration at the Beardsley Zoo, where we Moms could gather, and our kids, some quite ill, could have fun!
He will forever hold a place in our hearts.
Maggie (Shaw) Schaefer, RN
Litchfield County Lyme Network
Previously – Co-chair – Newtown Lyme Disease Task Force
He fought for children's health
In the nearly 25 years I've known this courageous, compassionate, and brilliant man, not a day or night has gone by when he wasn't fighting for children's health. Thank you for helping our families and encouraging us to fund desperately needed research.
Debbie Siciliano, Vice Chair
Global Lyme Alliance
A global pioneer
Dr Jones was the pioneer for pediatric Lyme patients from around the globe. He put his life and medical license on the line for his pediatric patients, whom he treated with great compassion around the clock. In fact, he never took a day off. The last time I saw him in 2019, he shared this pearl of wisdom "one should try to live each day in such a way that something could be done of significance that will echo through eternity."  Thank you, Dr Jones for your inspiration and for the hope you gave countless families. Your legacy will echo into eternity!
Diane Blanchard, Vice Chair
Global Lyme Alliance
A daily inspiration
There are very few people in this world like Dr. Charles Ray Jones.  I am so very grateful I was able to spend as much time as I did with him.  He is a person that inspires me daily and he will live on in my heart for my lifetime.
Karen Gaudian, Chair
Lyme Connection – Connecticut
He never gave up
Never have I met a more humble, caring physician, whose treatment of very sick children was incredibly focused and driven by his caring heart. Thank you, Dr. Jones, for your knowledge and progressive treatment. Thank you for never giving up even when answers were evasive. We love you.
Connie Lowther Moschell, RN
President, NE Ohio Lyme Disease Foundation
Hero, mentor, friend
Dr. Jones was my hero, mentor and friend. I am blessed to be one of the thousands of children that will go on to make an "eminent contribution to society" in his honor.
Anna Harrison
Dr. Jones' patient, now age 22
Majoring in biochemistry, she plans to pursue her dream of becoming a doctor, following in Dr. Jones' footsteps.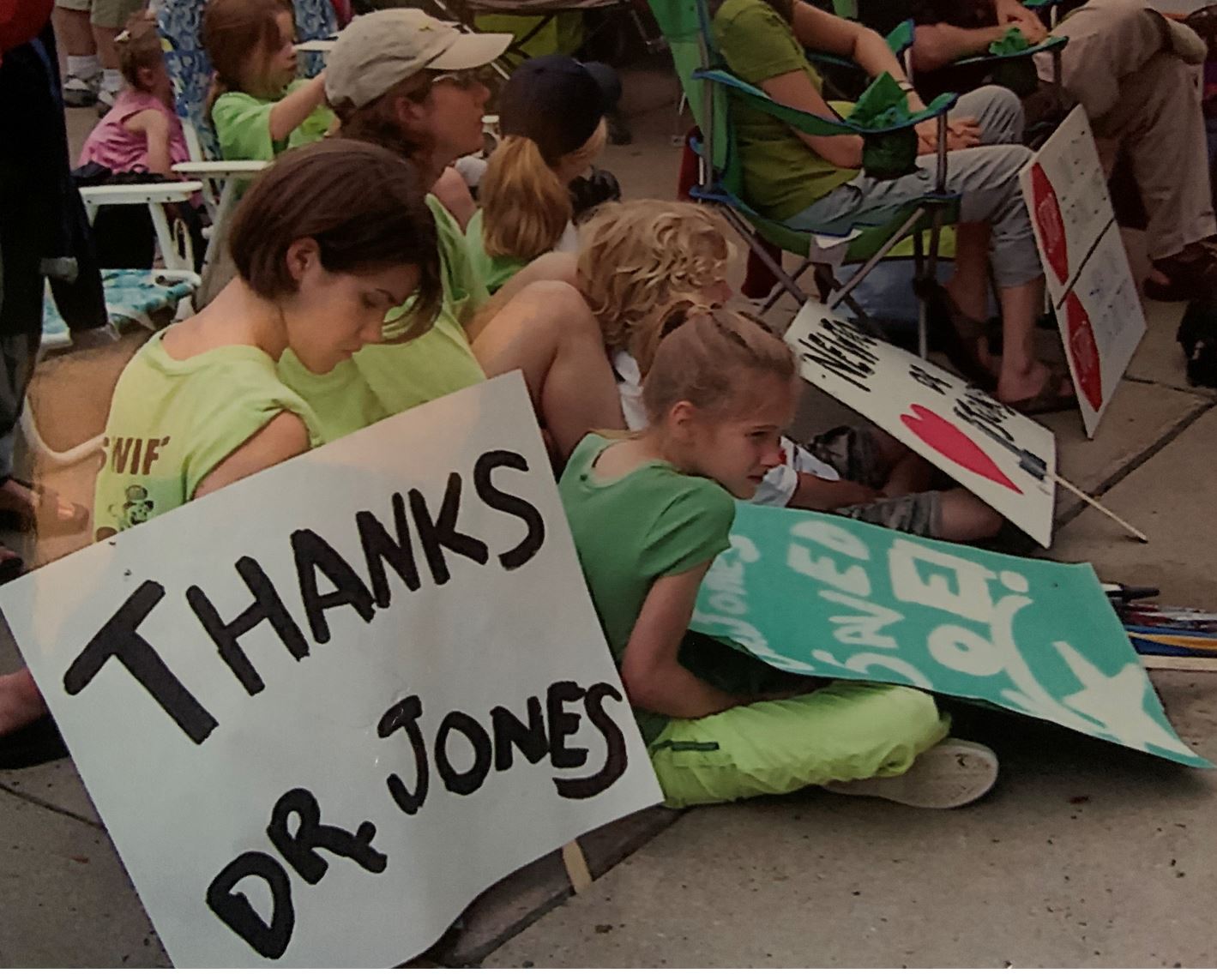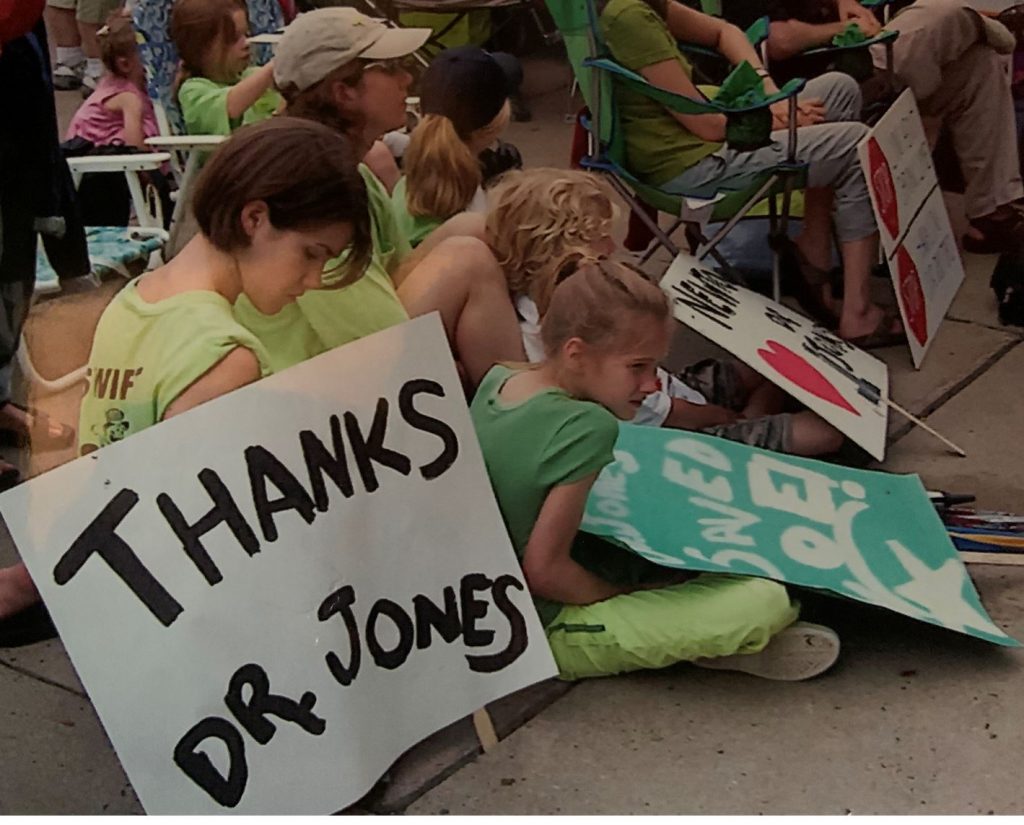 Note: My thanks to Maggie Schaefer, RN, BSN, for her assistance with this blog.
Click here to read: Dr. Jones' still-relevant advice on children with Lyme disease
Sandy Berenbaum, LCSW, BCD, is a therapist in Connecticut who specializes in counseling families with Lyme disease. Her website is www.lymefamilies.com. She co-authored the book "When Your Child Has Lyme Disease: A Parent's Survival Guide."