Rep. Chris Smith asks: How will COVID-19 affect people with Lyme disease?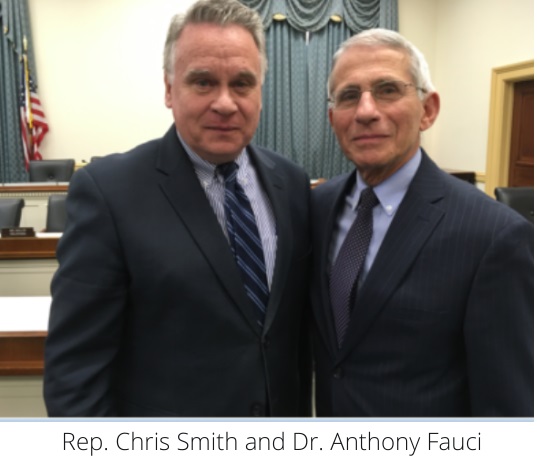 Representative Chris Smith of New Jersey has written a letter to Health and Human Services (HHS) Secretary Alex Azar and the NIH's National Institute for Allergies and Infectious Disease Director Dr. Anthony Fauci.
In it, Smith thanked Azar and Fauci for their work on COVID-19, while expressing his concerns that chronic suffers of Lyme could be particularly vulnerable to coronavirus.
"As you know, my home state of New Jersey has been ravaged by COVID-19—as of April 9 there have been 51,027 confirmed positive cases and 1,700 have tragically lost their lives. Thousands more have lost their lives across the entire Tri-State area which also includes New York and Connecticut," Smith wrote.
"I find this outbreak especially concerning when I consider the countless individuals who live in this region who also suffer from Lyme disease.
"I remain deeply concerned about what impact COVID-19 and the coronavirus outbreak will have on the countless Americans suffering from Lyme disease and other related co-infections. Does the National Institutes of Health believe Lyme disease and other tick-borne diseases are underlying conditions which put individuals at higher risk for COVID-19?"
According to an HHS 2018 Report to Congress, there are approximately 300,000 new cases of Lyme disease each year—with an estimated 40,000 new cases annually in New Jersey alone.
Smith has worked with Dr. Fauci at the National Institutes of Health (NIH) for several years on efforts to combat Lyme disease, and commended Fauci's October 2019 Strategic Plan for Tick-borne Disease Research.
The TICK Act, introduced in the House by Smith and signed into law four months ago—creates a "new whole-of-government" national strategy to combat Lyme and other tick-borne diseases.
PRESS RELEASE SOURCE: The Office of Representative Chris Smith