LYMEPOLICYWONK: CDC outreach to Lyme community—true patient engagement or tokenism?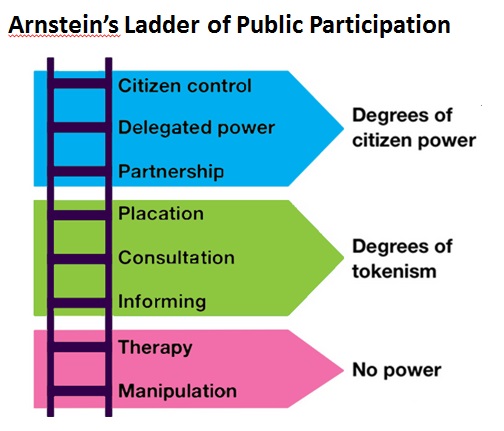 The CDC has shown a willingness to talk to Lyme patient advocates lately. Is that a breakthrough, or not?
The CDC has made significant overtures to the community lately—meeting with patient groups, sharing information of breaking events and answering questions. One of the issues that the patient groups struggle with is determining whether these outreach efforts are genuine exercises in engagement that could provide patients with a meaningful voice in health policy matters that affect their lives (like treatment options) or whether patients are merely being placated .
What is the difference between true engagement and tokenism? It's a matter of whether patients have a real opportunity to influence decision-making or not. Sherry Arnstein is best known for laying out the different levels of citizen engagement in a democracy, which she illustrates with the so-called "Arnstein ladder." The bottom rungs of the ladder provide no real opportunity for citizen influence and are regarded as either a form of manipulation or tokenism. For instance, when the CDC merely informs patients about a policy, this is a form of tokenism because no real opportunity to influence the policy is provided. Patients are treated as empty heads that need to be filled with information provided by the CDC.  It's a one-way street.
And, if the information provided by the CDC is biased, it may actually be a form of manipulation. For example, when the CDC says that patient deaths have occurred in the treatment of Lyme disease, but neglects to mention that these are quite rare, it is a form of manipulation.  Patients are not being told the facts—they are being given a dose of opinion intended to influence their behavior. Even when patients are given voice—an opportunity to say what matters to them—if they do not have an opportunity to affect real change, their participation is illusory. It can become a game of "tell me what you think, but don't expect me to take it into account when I make decisions."
To be sure, communication is important and essential to change, but it is not sufficient to create meaningful participation for patients. Other forms of tokenism include consulting with (but not necessarily listening to) patients or placating patients by putting them on a committee that has no power. One concern patients raise about the current overtures by the CDC is whether they mark a move toward partnership—or, as some patients believe, are no more than a premarketing move to placate patients before a new vaccine hits the market. The CDC is not helping matters when it says engagement is necessary for "prevention."  What about all of the sick patients?  Do they not even make the agenda?
Patients were pleased that the CDC shared results of some studies supporting the increase in Lyme cases to 300,000, but in a true partnership, patients would have known those studies were being conducted in advance. Even more—we would have had a hand in how the studies were conducted and what questions were asked. For participation to be meaningful, patients must have an opportunity to influence decision-making—to make a difference. Recently, patients have been talking with the CDC—let's see if it makes a difference. Otherwise, communication without the ability to influence is a form of placation or tokenism.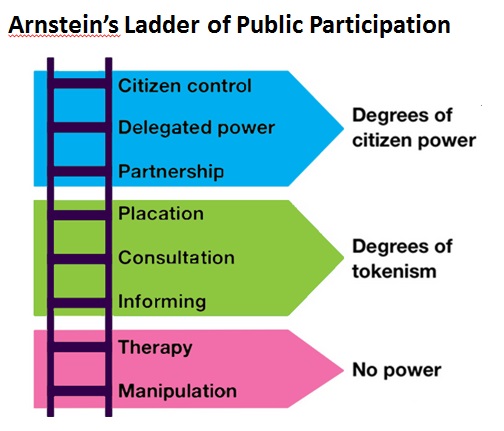 .
.
LYME POLICY WONK blog is written by Lorraine Johnson, JD, MBA, who is the Chief Executive Officer of LymeDisease.org, formerly CALDA. Contact her at lbjohnson@lymedisease.org.