POLITICAL ACTION: History of Federal Lyme Legislation, Part 8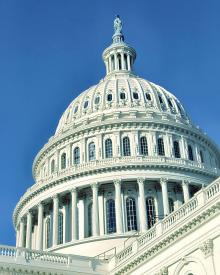 You never pass legislation in a vacuum. The backdrop for the ongoing efforts to pass the Lyme bills included, in August 2005, Hurricane Katrina. In September, 150,000 people gathered in Washington DC to protest the Iraq war and the US death toll approached 2,000. Then in October, a grand jury indicted "Scooter" Libby, Vice President Dick Cheney's Chief of Staff, on felony charges. 2006 brought new challenges and distractions for Lyme advocates, too. With all these pressing issues to deal with, how could we expect legislators to fit Lyme disease legislation into their calendars?
This is the eighth part in a series. CALDA founder and president Phyllis Mervine shares experiences and insights from her decade of involvement with various reincarnations of the federal Lyme bills.
Recap: We still had four bills, but patient advocates were finally able to concentrate on the two companion bills: one in the House, one in the Senate. Our work was cut out for us – getting legislators on board as co-sponsors.
Shark-infested waters
As the 109th Congress entered its second session in January 2006, activists across the country geared up for an effort to try to pass the Lyme bill by the end of the summer, when legislators would recess. With the aftermath of Katrina, the Iraq war, and the Valerie Plame case making front page news, the idea of passing Lyme disease legislation seemed almost impossible. Although different Lyme advocacy groups worked closely and coordinated their activities, against this complicated background it was an uphill battle. And other issues critical to our agenda loomed on the horizon.
In the fall of 2006, advocates knew that the Infectious Diseases Society of America, whose guidelines already severely limited diagnostic and treatment options for patients, were working on updating their guidelines. LDA and ILADS signed a joint letter asking to be allowed to provide input. IDSA refused. In early November the new guidelines were published in an IDSA journal. As expected, they were more restrictive than ever.
Behind the scenes, activists had been working with the Connecticut State Attorney General and shortly after the guidelines came out, AG Blumenthal announced a civil investigation of IDSA based on allegations of abuses of monopoly power and exclusionary conduct in the development of their guidelines, in violation of antitrust law. Then on November 30, hundreds of patients from across the country held a protest rally outside Westchester Medical Center/NY Medical College in Valhalla, NY, workplace of three of the IDSA committee members, including guideline chair Gary Wormser.
The Attorney General's antitrust action is the first in the US to focus on the medical guidelines development process. It promised to change the playing field dramatically. Quickly recovering, IDSA launched a media campaign to discredit patient advocacy organizations and their chief competitor, ILADS. It was as though we had finally broken through the glass ceiling. We might be cut and bleeding, but IDSA was finally forced to acknowledge our existence and talk to us. We knew we had made an impression.
Back in Washington, an LDA-directed patient effort failed in a last ditch attempt to pressure Texas Congressman Barton, Chairman of the Energy & Commerce Committee in the US House, to bring the bill up for a vote. When Congress recessed in the fall of 2006, the Lyme bills had not made it out of their respective committees. But Senator Dodd and Congressman Smith stated their intention of introducing identical bills early in the next Congress, so that we would hit the ground running. By this time most legislators were aware of Lyme disease and we could depend on them to support the same legislation again. Advocates knew it wouldn't be a cake walk, but they hoped things would be a little less complicated in 2007.
Next time: Smooth sailing
To research bills on the Web, go to the Thomas website, click on Search Multiple, Previous Congresses,
and then choose the Congress you are interested in. Type "lyme disease" into the search box and click on SEARCH.
If you like what CALDA is doing, and want to help us do more, please
1. JOIN
2. DONATE
—