POLITICAL ACTION: History of Federal Lyme Legislation, Part 5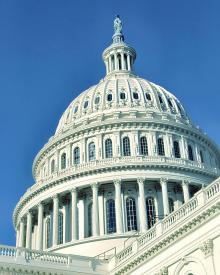 Sometimes Congress is busy with other matters, like wars and disasters. Early in 2003, Space Shuttle Columbia disintegrated during reentry, killing all 7 astronauts onboard and then in March the United States invaded Iraq. So perhaps it was a minor miracle that on July 31, 2003, Senator Santorum (PA) reintroduced a Lyme bill containing identical language to the 2002 amended LIFT, S. 1527.
This is the fifth part in a series. CALDA founder and president Phyllis Mervine shares experiences and insights from her decade of involvement with various reincarnations of the federal Lyme bills.
Recap: The previous Congress had ended with three dead bills, two in the House, one in the Senate. The deadlock seemed to be resolved when Senator Dodd introduced an amended version of LIFT that was more like LDI. This Senate bill passed, but it was too late for the House companion bill.
Doldrums

The Lyme community was also making progress on other fronts. Earlier that month, after several years of work, Rhode Island patient advocates had witnessed the passage of a groundbreaking bill requiring health insurance companies to cover longterm intravenous antibiotic treatment for Lyme disease. Activists in California and New York were working on legislation to protect their doctors, while patients in Connecticut, fearing a drop in the number of reported cases, protested the Health Department's decision to stop lab reporting of Lyme disease.
It wasn't that nothing was happening in Washington. In November 2003, LDA organized a meeting for affiliate representatives, doctors and scientists with officials from Health and Human Services in Washington, DC, where we discussed problems with the CDC surveillance criteria with representatives from HHS, NIH and CDC. HHS aide Laura Lawler seemed shocked to find out that doctors treating people with chronic Lyme disease were being persecuted by state medical boards. "Why would a licensing board care if a doctor were treating a disease?" she asked.
Then early in 2004, ILADS published its Evidence-based guidelines for the management of Lyme disease. A few months later – on May 11, 2004 –Congresswoman Sue Kelly (NY) introduced the House version of the Lyme bill, HR. 4334. The bills didn't have a real name or catchy initials; they were simply titled: To establish a Tick-Borne Disorders Advisory Committee, and for other purposes.
Even though we had companion bills, congressional support for them bottomed out, not even gaining as many cosponsors as they had had in the previous Congress. Kelly's bill gained only a total of 15 cosponsors before the 108th Congress ended, Santorum's eight, and George Bush was elected for a second term. We'd been working on the bills for five years and still no end in sight.
Next time: Out of the frying pan
To research bills on the Web, go to the Thomas website, click on Search Multiple, Previous Congresses,
and then choose the Congress you are interested in. Type "lyme disease" into the search box and click on SEARCH.