A mother and son's 9-year roller coaster ride with neuro-Lyme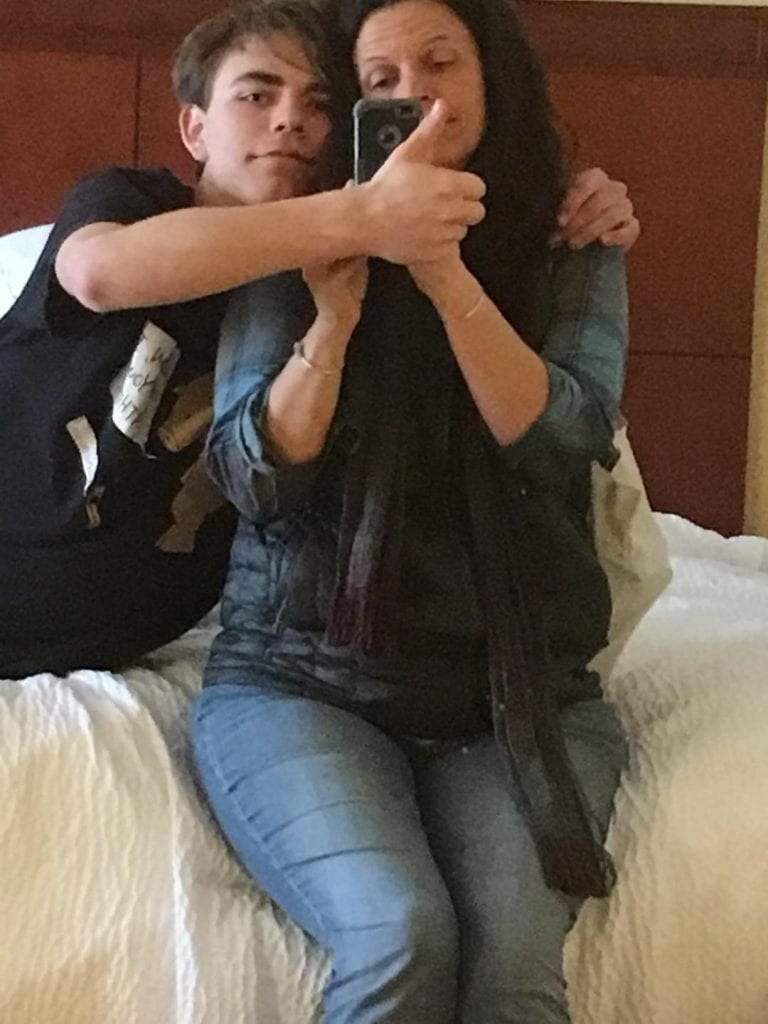 by Rebecca Zelis
It has been nine years since a diagnosis, and over a decade since a tick-borne disease inflicted itself on my son's brain.
Imagine riding a roller coaster for nine years, and you'll understand a little of what parenting a child with neurological Lyme disease feels like; overwhelming anxiety then intense relief, quiet steady climbs followed by startling descents, thinking you've reached the end of the ride only to have the carts race past the gate and begin again.
He is doing better each year, but he hurts, he struggles, he knows he is not his best self.
And after ten years, he is angry. When I parented a six-year-old with Lyme disease anger was something we could snuggle, bathe, and read stories to. With a six-foot-one teenager, anger is not something a mom can "fix."
So instead, I stay positive, organized, and optimistic. I drive hours to doctors' appointments, confer with therapists, gently remind teachers about 504 plans, assertively remind teachers about 504 plans, cook special foods, and create budgeting miracles in the financial aftermath of a decade of Lyme disease treatment.
I witness his frustration, depression, 'brain-fog' and loneliness. I diligently make lists of what I am grateful for. I am extremely patient when people tell me "everything happens for a reason." I try to remain open to the lessons available in this experience.
What are the lessons? Today, I honestly have no idea. It might be something about being more present in the moment instead of focusing on him getting "better." It might be about choosing your attitude in difficult circumstances. It might be about patience and grace in the face of adversity. Today, I don't know what the lesson is because I am so tired. The roller coaster is exhausting. I'd like to get off this ride.
But I won't get off. I won't, because he can't.
When he was in kindergarten and having behavior problems, he used to say, "My body is doing this! It's not me, it's my body." In retrospect it is fascinating that he knew – before the doctors and psychologists, and specialists knew – how Lyme and Bartonella were affecting him.
As a teenager it is much harder to see the separateness between body and identity, between character and productivity. I desperately want him to know who he is without "his body doing this" but that, like so many other things about parenting a teenager with neurological Lyme, is far out of my control.
So, I pray. I never did this before. I pray for his safety. I pray for a cure. I pray that he can salvage some kind of normal childhood in his last few years of high school. I pray that people who aren't his parents will care about him too. I pray that he will make some friends. I pray that he knows how talented he is. I pray that he doesn't give up on himself, that he remembers "it's his body doing this".
But prayers seem fairly useless on a roller coaster. Prayers don't make teachers care about him. Prayers don't make his peers friendlier. Prayers don't give him moments of joy, or the ability to move his body without pain, or a sense of hope and possibility.
I suspect parents of healthy teenagers experience this too, but with complex and chronic
Disease, the stakes seem higher. There are more unknowns and less predictability. The impact of a slice of pizza has to be considered and deliberated, the responsibility of medications delegated and contested. Choices that should be simple aren't… but at least there are choices. I know parents who would change places with me in a minute, who would gladly be on the roller coaster.
A decade is a long time. Some of those days have been gentle ascents with pleasant views, but on some days, like today, I feel lost, lonely, and pessimistic.  Then I think about how long a decade is for a fifteen-year-old. He has lived almost his whole life on the roller coaster.
I am not sure how to end this essay – the metaphor is too easily resolved; "ups and downs" are too informal a conclusion for so much pain. But, Lyme is a lonely disease. Perhaps the lesson today is to simply know that other parents are somewhere out there, on their roller coasters, understanding.
Rebecca Zelis shares what her family has learned from Lyme disease with the hopes of helping others in a similar situation. She can be contacted through her website,  VTLyme.org.