TOUCHED BY LYME: Can you boil down your Lyme message to just a few words?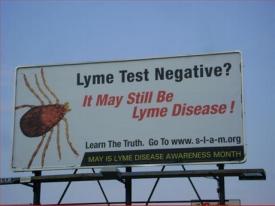 If you just had a couple of seconds to teach somebody about Lyme disease, what would you say? A group of Lyme activists in Sturbridge, MA, distilled their message to this: "Lyme test negative? It may still be Lyme disease!" They added their web address for more information, and posted all this on a big billboard next to the Massachusetts Turnpike, near Springfield.
The billboard is the work of SLAM—Sturbridge Lyme Awareness of Massachusetts. With assistance from a connection in the advertising biz, SLAM paid only a materials fee of $220.
Group spokeswoman Trish McCleary said they've received lots of positive feedback regarding the billboard and the group's recent May Day Lymefair, which included live music, family activities, and Lyme prevention information.
Additionally, Gov. Deval Patrick proclaimed May as Lyme Awareness Month in Massachusetts, and the group has received legislative citations for their Lyme advocacy work.
As Lyme Awareness Month activities get into full swing, we're seeing newspaper articles, information booths, showings of UNDER OUR SKIN, etc. But this is the first billboard I'm aware of. Hats off to SLAM for their creative efforts. And here's something to think about: what message would you put on a billboard, if you had the chance?
Contact blogger Dorothy Kupcha Leland at dleland@lymedisease.org.