LYMEPOLICYWONK: THE COST OF DENIAL—THE DOLLARS AND SENSE OF IT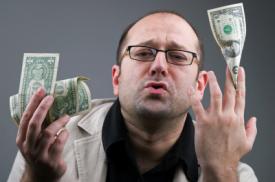 The cost of an illness includes medical and non-medical costs. Insurers bear the burden of medical costs for covered care, while society bears the cost of non-medical burdens. Saving a buck from insurance costs, only to spend 4 bucks on non-medical costs helps insurers at the expense of society. It really shifts the burden of an illness from the insurer to society. A recent article by Dr. Cameron makes this relationship in Lyme disease clear. The article "Proof that Chronic Lyme Disease Exists" was published as an open access article (meaning you can read it and download it without cost). He has done a thoughtful job pulling together statistics from a number of different studies to demonstrate the high rate of persistence of arthritis, neurocognitive impairment, neuropathy, skeletal pain and fatigue for years after treatment in patients diagnosed with Lyme disease. For instance, the rate of persistence of symptoms in patients after short term treatment for Lyme disease was 34% in Massachusetts.
One of the most interesting discussions in the paper is the societal costs estimated to be $203 million for CDC cases reported in 2002 alone.  Given that 10 fold under-reporting is widely acknowledged, this could mean $2 billion per year.  These statistics are only for incidence (annual reported cases) and do not reflect patients who remain ill for years (prevalence).  (That 34% Massachusetts figure shows prevalence)  So, really on an on-going basis, given the number of patients who remain ill after short term therapy and the number of years they continue to be ill, we are talking about an incredible amount of money.  A penny here a penny there and before you know it, denial of the scope of the problem becomes not an issue, but THE issue.  88% of the societal costs are "non-medical"—meaning that attempts to curb medical costs by denying medical care as the IDSA guidelines permit, may save insurers money, but does so by increasing societal costs.  This is called Robbing Peter to Pay Paul.  One thing that's clear is that the IDSA solution of "doing nothing" to address this problem is economically unsound.
 I include a couple of snippets from the article below, but I encourage you to read it in its entirety given that it is open access.
"The evidence continues to mount that Chronic Lyme Disease (CLD) exists and must be addressed by the medical community if solutions are to be found. Thirty-four percent of a population-based, retrospective cohort study in Massachusetts were found to have arthritis or recurrent arthralgias, neurocognitive impairment, and neuropathy or myelopathy, a mean of 6 years after treatment for Lyme disease (LD) [1]. Sixty-two percent of a cohort of 215 consecutively treated LD patients in Westchester County were found to have arthralgias, arthritis, and cardiac or neurologic involvement with or without fatigue a mean of 3.2 years after treatment [2]. Klempner trials' subjects presenting with "well-documented, previously treated Lyme disease…had persistent musculoskeletal pain, neurocognitive symptoms, or dysesthesia, often associated with fatigue" and were ill during a mean of 4.7 years after onset [3]. Fallon trial subjects presenting with "well-documented Lyme disease, with at least 3 weeks of prior IV antibiotics, current positive IgG Western blot, and objective memory impairment," were ill during a mean of 9 years after onset [4]. Krupp LD subjects presented with "persistent severe fatigue at least 6 or more months after antibiotic therapy" [5]."
"The economic burden of CLD has yet to be addressed. The mean cost estimate of CLD per patient in the US, of $16,199 per annum in 2002 dollars [8], reflects the toll on human health and cost to society. The annual per-patient cost of CLD is substantially higher than the cost for other common chronic illnesses: $10,911 for fibromyalgia [21], $ 10,716 for rheumatoid arthritis [21], and $13,094 for lupus [22]. Eighty-eight percent of the cost ($14,327) of Lyme disease consisted of indirect medical cost, nonmedical cost, and productivity losses. Cutting medical cost would save, at most, only 12% or $1,872 per annum. In 2002, the annual economic cost of LD in the US, based on the 23,000 cases reported to the CDC that year, was estimated to be $203 million [8]. Considering that the actual number of LD cases is believed to be 10 times higher than the number of cases reported to the CDC, the actual annual cost could be $2 billion [23, 24]."
You can contact Lorraine Johnson, JD, MBA at lbjohnson@lymedisease.org.