Publication Alert: IDSA Review Hearing Report–Lipstick on a Pig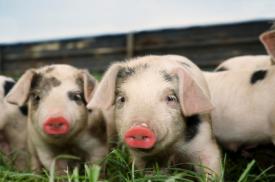 On April 22nd, the IDSA guidelines review hearing panel rubber-stamped its Lyme disease guidelines in its final report of the hearing. Those of us who presented and attended the hearing were appalled. Sure we had our reservations about the ability of a panel stacked with IDSA members to impartially review the guidelines, but there were 1,600 pages of peer reviewed evidence that had been presented to the panel and independent scientists had attested to the persistence of the Lyme bacteria and the low quality of the tests. How could they ignore the weight of such evidence? How could they decide to leave the guidelines completely unchanged even though a panel of their own choosing was divided on the testing? To make matters worse, the IDSA then trumpeted the results of a stacked panel as "independent" in their report. Dr. Stricker and I were given the opportunity to respond to the IDSA "spin" and our letter to the editor was just published. An excerpt follows:
To the Editor—Truth in science is established through open debate in an independent process. The scientific process fails when one side of a debate sets the 

rules, controls the arena, and ensures that its viewpoint prevails. Sadly, this is what the Infectious Diseases Society of America (IDSA) has done in the "vindication" of its beleaguered 2006 Lyme disease guidelines described in the final report of the Lyme Disease Review Panel [1].
The letter makes the point that the process was run by the IDSA, that the panel was selected by the IDSA
 (7 of 8 
were members of the IDSA), that the
chair of the panel was a past president of the IDSA.  Hence, the process was anything but "independent".  Imagine a jury trial where the defendant selects a jury of friends.  The letter concludes that t
he role of a medical society is not to  
"call the science" according to the vote of a biased panel that represents one side of the debate and whose guidelines are under attack.  This latter represents a clear cut organizational conflict of interest.
You can dress it up any way you want to.  It's just lipstick on a pig.
Johnson, L. and R.B. Stricker, Final report of the Lyme disease review panel of the infectious diseases society of america: a pyrrhic victory? Clin Infect Dis, 2010. 51(9): p. 1108-9; author reply 1109-1.
You can follow additional comments on Lyme policy at www.lymepolicywonk.org.

 

You can contact Lorraine Johnson, JD, MBA at lbjohnson@lymedisease.org.