NEWS: Consumer Reports rates mosquito/tick repellents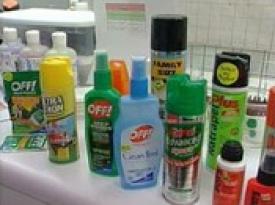 Consumer Reports tested 10 bug repellents to see how well they protected from mosquitos and ticks. They found that six products kept mosquitos and ticks away for at least seven hours.
.
.
.
.
.
.
As reported by KDKA-TV (Pittsburgh):
Consumer Reports just tested 10 repellents to see how well they protect against mosquitoes and deer ticks.
"Several of the repellents we tested contain the active ingredient DEET, but no more than 30 percent," said Kim Kleman, of Consumer Reports. "And others use newer chemicals like Picaridin."
The Repel spray uses lemon eucalyptus oil, another chemical. Two other products tested claim to be "all natural" – Burt's Bees All Natural Herbal Insect Repellent and Organic Bite Blocker Xtreme.

In the end, six products kept mosquitoes and ticks away for at least 7 hours:

Off Deep Woods Sportsmen II
Cutter Backwoods Unscented
Off FamilyCare Smooth & Dry
3M Ultrathon Insect Repellent 8
Repel Plant Based Lemon Eucalyptus
Natrapel 8-Hour with picaridin
Read more here.