IOM LIVE PODCASTS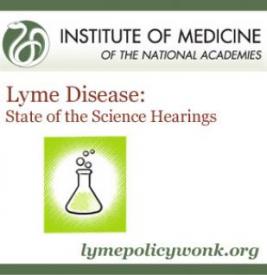 Podcasts from the Institute of Medicine: Lyme Disease: State of Science Hearings
On April 29, the Institute of Medicine's (IOM) Committee on Lyme Disease and Other Tick-borne Diseases: The State of Science held its first meeting in Washington, DC. Audio clips of the session are provided below. The open session lasted from 12:30pm to 5 pm. 2.5 hours were dedicated to presentations by government agencies and 1.75 hours were provided for patient comments, which were limited to 5 minutes each. The time limitation on patients resulted in a scatter shot approach. It is very difficult to make cogent points within 5 minutes. The limitation also meant that, as a practical matter, only patients close to the DC area would commit to the journey.
What does the Lyme community make of the session? Opinions may vary, but my take on the government presentations is that while some were interesting, most were focused on ecology and none were focused on the critical need of seriously ill patients to timely health care that restores their health. The agenda for the open session is available
here
. I kept a live blog of the event and speeches of some of the patients as well as my commentaries are posted on my blog (lymepolicywonk.org). The open session on April 29th was followed by a closed session on April 30th. Are anybody's ears burning? Enjoy the show. Let's hope the ending is both unexpected and joyous.
To listen to the Podcasts from the Lyme Disease: State of Science Hearings, click on the audio icon or title of the podcast.
| | | |
| --- | --- | --- |
| | | Dr. King is dean of The Ohio State University College of Veterinary Medicine, and previously served as Director of the Center for Disease Control and Prevention's new National Center for Zoonotic, Vector-Borne and Enteric Diseases (NCZVED). |
| | | |
| --- | --- | --- |
| | | Ms. Harper described the charge given by the NIAID to the IOM for this State of the Art conference. The charge is very important and I suggest you listen to it. |
| | | |
| --- | --- | --- |
| | | Her views align with those of the IDSA: modern tests are quite good, late Lyme is quite responsive to treatment; seronegative late Lyme if it occurs at all is extremely rare; concern about over use of laboratory tests as they are quite expensive for patients. She made a presentation to the panel. |
| | | |
| --- | --- | --- |
| | | Dr. Beards presentation focused on strengthening national surveillance, prevention, the need for improving diagnostics and treatment, and the need to identify all pathogens in the tick. |
| | | |
| --- | --- | --- |
| | | Her presentation described how FDA licensing for lab tests work and noted that there are 52 approved ELISA tests and 20 approved Western Blot test. There are no PCR tests approved. A noted problem, she said, is the lack of well characterized serology specimens for instance indicating stage or length of illness. |
| | | |
| --- | --- | --- |
| | | Speech focused on information on the environmental impact of control efforts and eco factors that affect tick abundance and distribution as well as the need to identify reservoir hosts. |
| | | |
| --- | --- | --- |
| | | A highly technical talk on research and information from satellite and ecological project useful for modeling large scale factors to help interpret the information by CDC and local health department to be able to understand critical drivers like climatic changes. |
| | | |
| --- | --- | --- |
| | | Focus of talk was on deer targeted delivery technologies for controlling the tick population using tick vaccines, pesticides, and contraceptives to treat white tail deer to deliver to ticks. |
| | | |
| --- | --- | --- |
| | | Presentation focused on information regarding the eco-factors that affect tick abundance. |
| | | |
| --- | --- | --- |
| | | Public Comments were limited to 5 minutes per speaker. Those who spoke included Pat Smith of the national Lyme Disease Assn., Diane Blanchard and Ann Lyons of Time for Lyme, Gregg Skall of National Capital, Helene Jorgensen, author of Sick and Tired, Candy Brassard of the EPA, Rick Smith, Bob Smith, and Julia Rice, a former nurse. Others listed to speak who did not attend were Arthur Weinstein, Phil Baker, and Lynn Shepler. This segment covers comments of Pat Smith, Diane Blanchard, Ann Lyons, and Gregg Skall. |
| | | |
| --- | --- | --- |
| | | Public Comments were limited to 5 minutes per speaker. Those who spoke included Pat Smith of the national Lyme Disease Assn., Diane Blanchard and Ann Lyons of Time for Lyme, Gregg Skall of National Capital, Helene Jorgensen, author of Sick and Tired, Candy Brassard of the EPA, Rick Smith, Bob Smith, and Julia Rice, a former nurse. Others listed to speak who did not attend were Arthur Weinstein, Phil Baker, and Lynn Shepler. This segment covers comments of Helene Jorgensen, Candy Brassard and Rick and Bob Smith. |
| | | |
| --- | --- | --- |
| | | Public Comments were limited to 5 minutes per speaker. Those who spoke included Pat Smith of the national Lyme Disease Assn., Diane Blanchard and Ann Lyons of Time for Lyme, Gregg Skall of National Capital, Helene Jorgensen, author of Sick and Tired, Candy Brassard of the EPA, Rick Smith, Bob Smith, and Julia Rice, a former nurse. Others listed to speak who did not attend were Arthur Weinstein, Phil Baker, and Lynn Shepler. This segment covers comments of Julia Rice, Ann Lyons, and the question and answer session direct to those who made public comments. |