LYME POLICY WONK: "The IDSA will not hesitate to change its guidelines"– True or False?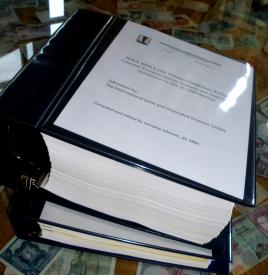 If you don't read medical journals or medical ethics journals, you may have missed a comment made by Dr. Ann Gershon in the Southern Medical Journal. She is responding to an article by Susan Ronn that was published together with an editorial by me and Dr. Stricker. It took me a couple of times reading this, but I think she made a promise based on a dare. She says: "If and when there is credible evidence of the existence of chronic Lyme disease and of the benefits of long-term antibiotic therapy to treat it, IDSA WILL NOT HESITATE TO CHANGE ITS GUIDELINES TO REFLECT THIS EVIDENCE."
If it is true that the IDSA will not hesitate to change it guidelines to reflect the evidence, we should be in good shape. Those who saw the video of the hearings were truly blown away by the weight of evidence in Dr. Phillips' presentation on persistence.  He presented not just one or two instances of persistence, but a remarkable number of studies demonstrating persistence of the organism notwithstanding treatment in animals and man as evidence by PCR, culture and other methods of direct detection. He backed these up with an 81 page submission to the panel that included 226 citations to peer-reviewed scientific research documenting the persistence of Lyme disease bacteria notwithstanding treatment. That sounds pretty convincing to me.  How about you?
Oh, yeah.  And then Dr. David Volkman said there was evidence of persistence and Dr. Ben Luft also said that.  Well, this is now beginning to look like a rout on the issue of persistence.
The IDSA's viewpoint seems to be that, well, if there is persistence, we should be able to demonstrate it in every patient.  The problem is that direct detection methods are notoriously bad in Lyme.  With antibody tests, we know that the tests themselves are bad (no better than a coin toss) in terms of detecting cases of Lyme by those who have it.  But with direct detection tests, the issue is different.  The tests are good enough, but the organism is not cooperative.  The two direct detection methods for the Lyme bacteria are PCR and culture.  It is extremely hard to culture Lyme bacteria and this is not commercially feasible.  Lyme bacteria are what is known as "sparse" and "fastidious".  This means there aren't many of them and they stick to themselves (for instance, don't replicate often).  In a culture Petri dish, this means they won't replicate or grow enough to produce a positive result in a reasonable amount of time.  The time it takes to grow a culture of Lyme is very long.  Physicians do not use this method of detection of Lyme because it is not practical.
While PCR positive Lyme is very specific–meaning if you are PCR positive you have it–it is not very sensitive–meaning it misses a lot of patients. In fact, if you know that 100 patients have Lyme only 10-15 of these will test positive by PCR in blood. This is because the PCR blood test has "low yield." The organism that causes Lyme disease is sparse–there are very few floating in the blood.  They also tend to head for the hills–meaning tissues, brain, bladder, ligaments, eyes, etc. A PCR blood test has to capture an organism in the blood in order to test positive.  This is why so few patients test positive by PCR blood tests.  There is also the fact that while antibiotics may not kill all of the Lyme in the body, particularly if it is hiding out in places that the antibiotics may not reach, they do clear the blood of the infection.  So a patient on antibiotics is expected to test negative by PCR and only 10-15% of those not on antibiotics will test positive.  Dr. Stricker pointed out to me an interesting parallel with AIDS.  When they first came out with the combination anti-virals to treat the infection, the tests for HIV turned negative and the researchers and physicians assumed the virus was "gone." Not so, it just was no longer detectable by those tests and came back out from tissue hideouts and became detectable again when the anti-virals were stopped.
PCR culture is good in some tissue sites (like near the EM rash), but testing may require more samples to obtain a positive result in other areas of tissue.  For instance, in the Straubinger dog studies, they euthanized the dogs and took 25 tissue samples.  Clearly, this is too invasive for humans.
Well, what about the Klempner study that showed that 0 patients, ZERO, tested postive.  How can that be?  You would expect 10-15% to test positive, right?  A rather obvious conclusion would be that the PCR test being used was faulty.  Interestingly, this possibility is not raised in the study or its conclusions.  How could this not have been considered?  The PCR test used there was "home brewed", new, and unvalidated.  The issue of it not being accurate should have been front and center.
At the end of the day, the evidence for persistence is pretty overwhelming.  Does this mean the guidelines hearing panel will take out that statement in the guidelines that says "there is no evidence of persistence"?  Will they go further and call the science what it is and say "there is substantial evidence of persistence of Bb notwithstanding prior antibiotic treatment"?  Your guess is as good as mine, but if they take Dr. Gershon's advice, the "IDSA WILL NOT HESITATE TO CHANGE ITS GUIDELINES TO REFLECT THIS EVIDENCE."
What do you think?  Should the IDSA guidelines be changed on the issue of persistence?