MILESTONE: LLMD Edwin Masters dies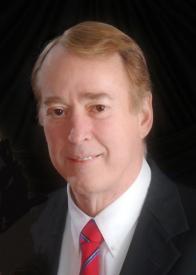 Edwin "Ed" Masters, LLMD, of Cape Girardeau, Missouri, died Sunday, June 21, 2009 at the age of 63. Dr. Masters fought for years with the CDC over the existence of Lyme disease in Missouri. He conducted research and published 52 scholarly papers.
I feel sad thinking about him, but thinking about him, I can't be sad for long. I can still hear that outrageous giggle of his. And his jokes! Remember the one about three ticks that went into a bar? The waitress took their order and yelled to the bartender, "Two Bloods and a Blood lite!"
Ed had the funniest picture of a nasty dog with Bell's palsy that was trying to snarl, but could only snarl on one side of his mouth. Or the photo of his kids all dressed up in green T-shirts with some sort of logo – he had them out dragging for ticks on his property and they didn't look too pleased about it. Ed always made everyone laugh. We loved to have him speak at our conferences. He disarmed people with humor, then shot his arrows home.
I found a copy of the old Lyme Times where we published his run-ins with the CDC over Missouri Lyme disease. We sent our article to CDC spokesman Dave Dennis for comment and then let Ed reply. We gave Ed the last word. He was our man! To read the interchange, click on the link below. Ed takes the bull by the horns and doesn't mince words.
Ed always said it was because he was a country doctor and not a high-priced specialist that he learned the real story of Lyme disease. He'd meet his patients at church or at the grocery store and they'd tell him how they were doing. He couldn't duck and hide. This kept him humble and he found what worked and what didn't.
Ed was passionate but he also did his homework. My own physician, San Francisco rheumatologist Paul Lavoie, was one of his mentors and Paul told him to fight with science. Ed did. His website lists 52 published papers.
He was so angry after the CDC used his data to make it sound like Missouri "Lyme-like disease" was no big deal (they manipulated the cut-off dates to exclude people with the most serious symptoms). Ed was furious. Since he was supposed to be a co-author, they wanted him to sign off on the paper, but without reading the final. He and Missouri Public Health Officer Denny Donnell refused to sign and published the findings themselves in Missouri Medicine.
Ed's tactics became more refined the more experience he had. In the end, the CDC named his "Lyme-like disease" STARI, Southern tick-associated rash illness, (what a mouthful!) and claimed the cause was unknown. As LDA president Pat Smith has noted in her eloquent tribute to him, everyone else called it "Master's disease" in honor of Ed. Ed said he called it Master's disease because it was easier for him to remember the name.
I remember he came out to California for Paul Lavoie's last conference in 1993, when Paul was dying from pancreatic cancer and CALDA gave him the first Distinguished Physician Award. We gave the Award to Ed the following year.
I missed Ed when he started to miss meetings on account of his health. I think the last time I saw him was at the LDA conference in Philadelphia. Although he had serious health challenges, he still had that infectious giggle and irrepressible spirit. He was a great doctor and a great human being. I always hoped I'd see him again.
To view the article, click on the link below. Reading his words brings Ed to life again, if only for a few minutes. He was a fighter.
The Southeast Missourian has published a detailed obituary and account of his funeral, for those who want to learn more about this exceptional man.
Cure Unknown author Pam Weintraub is blogging on Ed at Rebel with a Cause: The Incredible Story of Dr. Masters, Part 1.