Gunfight at the OK Corral– Pistols at dawn! The Sequel–Stricker & Johnson reply to President of IDSA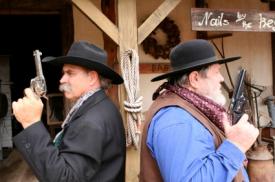 A couple of weeks ago, I suggested you look the "pistols at dawn" action at the OK Corral between IDSA president, Dr. Ann Gershon, and Dr. Stricker and me on the IDSA guidelines, antitrust law, and Lyme disease. Drum roll. . .The reply by Dr. Sticker and me is now posted on the Journal of Medical Ethics website. This lively debate is a breath of fresh air to the Lyme community.
Here is an excerpt from our reply to Dr. Gershon:
As stated in our article, the IDSA Lyme guidelines are not "simply guidelines", as Dr. Gershon meekly maintains. They are a highly restrictive set of directives published by the largest group of infectious disease specialists in the world, and they allow a monopolistic medical society to set a standard of care that forecloses treatment options for patients. The IDSA guidelines trivialize Lyme disease, ignoring the growing number of patients with persistent symptoms of tick-borne illness leading to significant disability. The guidelines also discount the importance of clinical judgment and fail to provide treatment options for Lyme patients. As Dr. Gershon knows, the IDSA Lyme guidelines are treated as the mandatory standard of care by insurers, government agencies and medical boards, and they are used to deny patients access to the only viable treatment option for chronic Lyme disease.
Those interested in Dr. Gershon's prequel, can find it here.
The orginal article Dr. Stricker and I wrote (the prequel to the prequel?)  is here
Comments about this post are welcome at johnson.lorraineb@gmail.com.