NEWS: Yale panel examines UNDER OUR SKIN and doesn't like what it sees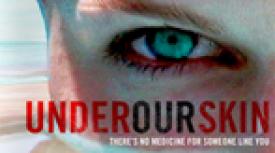 Yale University recently showed the Lyme documentary UNDER OUR SKIN, followed by a panel discussion. The three panelists, Durland Fish, PhD, Peter Krause, MD and Eugene Shipiro, MD, were all members of the controversial IDSA 2006 Lyme guidelines panel which was scrutinized in the film. They characterized the film as "misleading."
News release from the Yale School of Public Health, May 9, 2011:
Yale Panel Examines Movie's Conclusions and Claims About Lyme Disease
A panel of Yale experts examined some of the conclusions and claims about Lyme disease presented in the award-winning documentary film, "Under Our Skin."
The 104-minute movie was considered for an Academy Award and is slated to be shown in 26 states this month on Public Broadcasting System stations. The film portrays real-life stories of several people who contend they are suffering from a chronic form of the tick-transmitted disease and who believe that their condition has been either ignored or inadequately treated by the medical establishment.
The film also questions the official medical guidelines on Lyme disease put forth by the Infectious Diseases Society of America (IDSA), which are corroborated by similar guidelines from four other medical societies in the United States and Europe. These guidelines do not support the concept that the Lyme bacterium persists despite standard antibiotic therapy and that it frequently results in chronic disability that requires long-term antibiotic therapy.
The three-member Yale panel was moderated by Durland Fish, Ph.D., a professor at the School of Public Health who conducts Lyme disease research. The panel screened the movie in Winslow Auditorium and invited questions from attendees from the Yale community.
While Lyme disease remains an important public health concern that is actively studied at Yale, panel members Peter Krause, M.D., and Eugene Shapiro, M.D., described the film as misleading, especially for people who become infected and may be influenced by the film's often emotional content.
Krause and Shapiro argued that multiple research studies have found no scientific basis that the bacterium that causes the disease survives in the human body long-term after conventional therapy and, therefore, extended use of antibiotics, a treatment advocated by some, cannot be medically supported. They pointed out that several rigorous clinical studies have found no benefit to patients, and substantial adverse effects, from long-term antibiotic therapy.
However, Krause and Shapiro explained that most academic and practicing physicians do not deny the fact that there are some patients who have had Lyme disease who have persistent symptoms following their disease and that further research into the cause of this is needed.
Shapiro appeared in several scenes of "Under Our Skin" and both Fish and Krause had their photos and names shown in the film. All three were coauthors, along with 11 other Lyme disease experts, of the controversial IDSA guidelines on the clinical assessment, treatment and prevention of Lyme disease. The guidelines were investigated by the Connecticut Attorney General's Office but a special review panel formed as part of an agreement with the Attorney General's office unanimously upheld all of the original guidelines last year, which is not mentioned in the film. The IDSA guidelines are made available to physicians to help them decide what treatments are best for their patients.
In response to the other panelists' comments and audience questions, Abigail Dumes, a PhD candidate in anthropology at Yale who is conducting dissertation research on Lyme disease, cautioned that no issue related to Lyme disease is black and white. "Ambiguity is productive of contestation," she said. She continued to argue that it is important to recognize that there is disagreement about Lyme disease within the scientific community and that there are significant communication barriers between the sides.
When asked by Fish whether they thought the showing of "Under Our Skin" on more than 100 PBS stations throughout the country was in the best interest of public health, Krause and Shapiro said that it should only be shown in conjunction with information from the CDC, NIH, and IDSA to provide viewers with a more balanced view of the issues.
Lyme disease is the most prevalent vector-borne disease in the United States, but Fish warns that the misdiagnosis and mistreatment of Lyme disease is becoming a significant public health problem in its own right. Research into Lyme disease and other tick-borne diseases such as babesiosis is ongoing and many questions remain to be answered, panel members said.