TOUCHED BY LYME: Why one Minnesota PBS station yanked UNDER OUR SKIN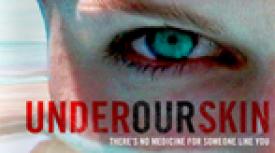 WDSE-WRPT, a PBS affiliate in Duluth, Minnesota, initially scheduled a May showing of the Lyme documentary. Learn why the station then changed its mind.
Two days ago, someone named Wayne posted a message on the CALDA website, saying that WDSE-WRPT (a PBS-affiliate in Duluth, Minnesota) had originally scheduled a showing of the Lyme documentary UNDER OUR SKIN this month but has since removed it from their lineup.
I called and spoke with station manager Al Harmon, who confirmed that. He said it was his own decision to pull the film. I asked him if he had been contacted by the IDSA asking him to remove the film. He said no. I asked him what prompted him to make the change. Here's the story that emerged:
WDSE-WRPT initially scheduled the broadcast of UNDER OUR SKIN based on information provided by the film's third party distributor. Once it was scheduled, Mr. Harmon was contacted by a local physician, who expressed "serious concerns" about the movie. (Says I: Was this an infectious diseases doctor? Says he: yes. Says I: A member of the IDSA? Says he: well, I suppose so. Says I: so you weren't contacted by the IDSA? Says he: hmmmmm.)
The unnamed ID doctor pointed out that information in the film about the Connecticut Attorney General's investigation of the IDSA is "out of date"—and that the IDSA's position has since "been reviewed and affirmed by an independent panel."
Station manager Harmon said he then watched the film in its entirety, saw "no updated information" about the AG's settlement with the IDSA, and agreed with the local infectious diseases doctor that it would be "inappropriate" to show this movie. Harmon immediately pulled it from the station's line-up.
Mr. Harmon and I discussed the matter for several minutes. He kept mentioning that the movie is "two years old," that it is "out of date." He said that the IDSA had "settled" with the AG office and that an independent panel had found them not to be at fault. He seemed to feel that this supposed "independent panel" had cleared the IDSA of everything they'd been accused of in the movie.
I pointed out that the second panel wasn't independent—it was also made up of IDSA members. This second panel didn't address the issue of the financial accusations. It merely rubberstamped the Lyme recommendations made by the first IDSA panel.
Mr. Harmon said he feels UNDER OUR SKIN doesn't offer a "complete picture" to the viewer. Says I: you're going to prevent people from watching this movie because it isn't as comprehensive as you think it might be? Says he: I'm not preventing anybody from watching this movie. They can download it on line.
Then he said the IDSA makes guidelines for many diseases, not just Lyme. "Isn't that how it's supposed to work? They make the guidelines?"
Well, Mr. Harmon, here's how I think it's supposed to work: PBS station managers shouldn't allow a private medical society like the IDSA to unduly influence their programming decisions. Lyme disease is a growing threat to public health in this country. The IDSA's role in restricting the diagnosis and treatment of this seriously debilitating illness is complex and highly controversial. UNDER OUR SKIN raises important information that deserves to be heard. Too bad the viewers of your station will have to find it elsewhere.
Contact blogger Dorothy Kupcha Leland at dleland@lymedisease.org.