TOUCHED BY LYME: Women and Lyme disease. What's going on?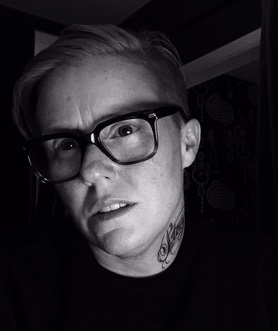 Sini Anderson is a filmmaker and artist who directed The Punk Singer, a 2013 documentary about musician Kathleen Hanna and her experience with late-stage Lyme disease.
In the middle of making that movie, Anderson herself developed weirdly debilitating symptoms, and surprisingly, was also diagnosed with late-stage Lyme disease.
Since then, Anderson says she has met dozens of other female artists with Lyme disease. And that she's come to see that gender inequality plays a part in how the medical establishment approaches the illness. She chose that topic for her next film, called "So Sick."
Anderson talked about her new film in the following interview, excerpted from the online publication "Damn Joan":
So Sick is a documentary about women with late-stage Lyme disease and various autoimmune diseases. It's especially personal to me, since I have late-stage Lyme myself…
As a gender-nonconforming person, I politically identify as a woman, but I've never been very in touch with my body. For years, I was treating different symptoms, but I wasn't incredibly sick. I had a period when I couldn't lift my arms more than six inches up in the air, and then months later, it just went away. I was seeing different doctors for arthritis, but I just thought, "I guess this is what happens when you're 39—you get arthritis in your hands and feet." And that went away too—out of sight, out of mind.
Then, as I was working on The Punk Singer [a documentary about Bikini Kill and Le Tigre frontwoman Kathleen Hanna, who was diagnosed with late-stage Lyme disease midway through production], I couldn't stop getting respiratory infections, and my anxiety, it just felt so different. I had a general practitioner I really liked, and on the way to an appointment, I wrote everything down, and when I'd finished, I thought, "Well, I'm a hypochondriac—there you go." It was the list of a crazy person, you know? 
I almost didn't share it with her, but when I did, she said, "Sini, this sounds like Lyme disease." I was like, "Actually, I can't have that because the subject of the film I've been working on has it, and that's too weird." It seems like a bad senior thesis project, that I'd, like, catch my subject's disease. But I kept getting sicker and even wound up in the emergency room. They released me with no diagnosis, with the recommendation that I see a psychiatrist.
…I'd never been more scared in my life. I was non-functioning. My immune system had just shut down. So, I took a Lyme disease test and it came back negative, but Kathleen, the subject of my film, convinced me to see her internist. I had to sell my motorcycle to pay for the specialized blood test they recommended, because insurance wouldn't cover it. It came back positive for Lyme, Babesia, and Bartonella, and that was kind of the beginning of my journey.
...The more times I hear about women in similar situations being dismissed, the angrier I get. When I found out that chronic and late-stage Lyme disease is seen as a joke in a lot of medical communities, that made me really angry. Because the illness is so intense, you know? It really felt like my life was ending. And then I started digging into fibromyalgia and chronic fatigue, and I realized the overarching thing happening is that something's going on with women's immune systems, and we're dismissing it. There's no real treatment for late-stage Lyme, and even though rates are through the roof for women, there are no gender-based studies done with late-stage and chronic Lyme. 
Click here to read the rest of the interview.
Click below to watch an excerpt of her film. This section focuses on artist and musician Bekah Fly, who has late-stage Lyme disease. "So Sick" also raises the question of what appears to be a strong gender bias in the diagnosis of the illness.   

Emails to Sini Anderson can be sent to edit@damnjoan.com, who will forward messages to her.
TOUCHED BY LYME is written by Dorothy Kupcha Leland, LymeDisease.org's VP for Communications. She is co-author of When Your Child Has Lyme Disease: A Parent's Survival Guide. Contact her at dleland@lymedisease.org .