TOUCHED BY LYME: Lyme cyclist to reach Pacific October 3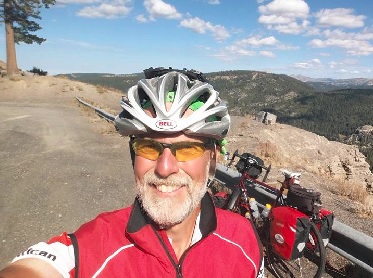 In May 2011, Logan McCulloch of Kentucky was hiking with his son in Mammoth Cave National Park, when he was bitten by more than 20 very tiny deer tick nymphs. He removed them all within 12 hours and mistakenly thought that meant he was home free in terms of Lyme disease transmission. (And why not? Isn't that what the CDC says?)
Alas, Logan got extremely ill. Yet his doctors dismissed the possibility of Lyme disease because (all together now) "there's no Lyme disease in this state." Eventually, guided by other Lyme patients, both online and in-person, he found his way to a Lyme-literate medical doctor. (Though he had to travel out of state to get there.)
After months of treatment, Logan's condition improved. He began spreading the word about Lyme disease in some unique ways. In 2013, he hiked the Appalachian Trail in the name of Lyme disease awareness, posting widely-followed video updates via social media.
In 2015, he set off on an even more ambitious trek—from the Atlantic Ocean to the Pacific. He covered about 700 miles on foot, but then (wisely, I'd say) switched to a bicycle. Again, he has posted updates to his followers on Facebook, and, as often as possible, met with local members of the Lyme community along the way. He has also used the opportunity to raise Lyme awareness where ever he goes.
"I've been a little bit of Johnny Appleseed and a little bit of Paul Revere," he said after he rolled into Sacramento County on Sunday. Several members of the Sacramento Lyme support group and I met up with him at a local park. Caroline Trujillo caught most of his informal talk on her cell phone, which can be viewed here.

Logan will be dipping his bike wheels into the Pacific Ocean on Saturday, Oct. 3, at 1 pm. He invites any Lyme warriors, family and friends that are in the area to stop by and help him celebrate the end of his long journey.
The action will be on the beach adjacent to Nick's Restaurant, 100 Rockaway Beach Ave, Pacifica, CA. (About 15 miles south of San Francisco.)
Good luck to you, Logan, on the last stretch of your trip from sea to shining sea. We're already waiting to hear about your next adventure.
His website is TrekForTruth.org.
TOUCHED BY LYME is written by Dorothy Kupcha Leland, LymeDisease.org's VP for Education and Outreach. She is co-author of When Your Child Has Lyme Disease: A Parent's Survival Guide. Contact her at dleland@lymedisease.org. On Twitter, she's @dorothyleland.