TOUCHED BY LYME: Taking to YouTube–and knitting needles–in search of answers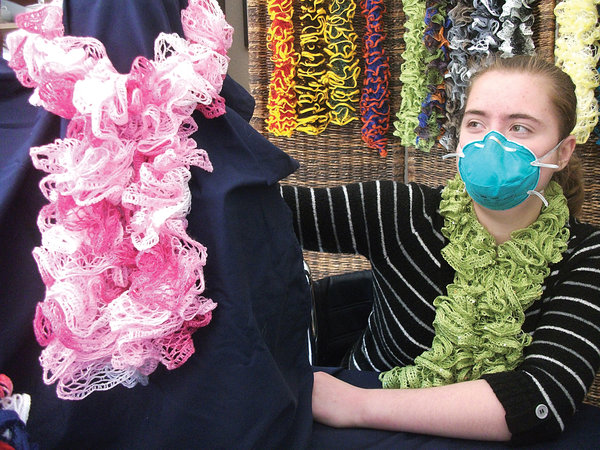 A teenager with Lyme seeks answers on the internet, while knitting scarves to pay for medical treatment.
Up until 2007, Samantha Heinrich, a teenager from Tracy, CA, was a beaming picture of health and physical activity. She surfed the California waves. She played on a softball team. Then, out of the blue, she starting having weird symptoms. Eventually, she developed gastroparesis–a stomach disorder that made it impossible for her to eat or drink. She had to receive nutrition through an IV in her arm. Her doctors didn't know how to help her.
It took a while, but via Facebook connections, Samantha came to learn that gastroparesis is sometimes caused by Lyme disease. She and her family found their way to a San Francisco-area Lyme specialist, who diagnosed her with Lyme and coinfections in 2012.
Friends and family members provided thousands of dollars to help pay for the treatments that insurance wouldn't cover. And while Samantha says the Lyme treatments have helped in many ways, her case has since developed serious complications. Even the Lyme specialist is stumped about what to do next.
Within the past year, Samantha has become extremely sensitive to chemicals. Exposure to everyday substances like bleach or perfume can throw her into long-lasting convulsions. And as of this past September, a new symptom: she can't control her knees and has lost the ability to walk.
In a gutsy, take-charge move in October, Samantha posted a YouTube video of herself, clearly demonstrating her seizures and leg problems.  "My doctor suggested I post a video about what is going on with me," Samantha states on YouTube. "She said 'someone in the world must have seen this before and know what to do.' "
MRIs and xrays have come back normal, she says, and physical therapy doesn't seem to be helping. Samantha is throwing her questions out into cyberspace, wondering if anyone has a useful suggestion to offer. Even if you don't, she asks that you share the video and help it go viral.
As I write this blog Sam's video has received more than 30,000 hits. Has it brought in any helpful suggestions? "We received a few that my doctor is testing for," she said, "but the results are not in yet."
As she waits for new developments, Sam is finding a way to keep busy. She knits ruffle scarves and sells them on Etsy. As recently featured in her local paper,
the Tracy Press
, Sam learned how to knit from her Grandma, and started knitting and selling the scarves to help raise money for her Lyme treatment. So far, she's sold 170 of them, netting more than $2450.
Sam, I am humbled by your spirit in the face of such obstacles. I've already placed my order for a Lyme green scarf through your
Etsy site
. And I'm reposting your
YouTube
video here, in hopes that my readers will share it and help it go even further than it already has. We're rooting for you, girl! I hope you find the answers you need.
.
TOUCHED BY LYME is written by Dorothy Kupcha Leland, LymeDisease.org's VP for Education and Outreach. Contact her at dleland@lymedisease.org.