PODCAST: How this former fighter pilot grew through Lyme disease adversity
By Fred Diamond
Imagine being one of only 75 women jet pilots in the Air Force and a true American hero, only to have your career and entire identity taken away because of a tick bite. If you're reading this article, and your career trajectory went askew because of tick-borne illnesses, you can relate.
But on this week's Love, Hope, Lyme Podcast, my guest spoke about how she was able to turn the tables and grow from this experience creating a new career as a global speaker and consultant who inspires thousands to rethink the challenges that they face every day.
Nicole Malachowski saw her decorated military and combat career compromised by five tick-borne illnesses. Her tick-borne illness odyssey, as she calls it, began in 2012 when she was a lieutenant colonel in the Air Force. She was physically, mentally, and spiritually fit, and everything in her life was going great.
When many of the usual symptoms associated with Lyme disease, including the prototypical bull's-eye rash, started appearing, and she described them in detail to the doctors, she was told "Well, we don't have Lyme disease in North Carolina, so it must be a spider bite."
Nicole surmised, "That was the day my life changed forever. That was the day I became chronically ill."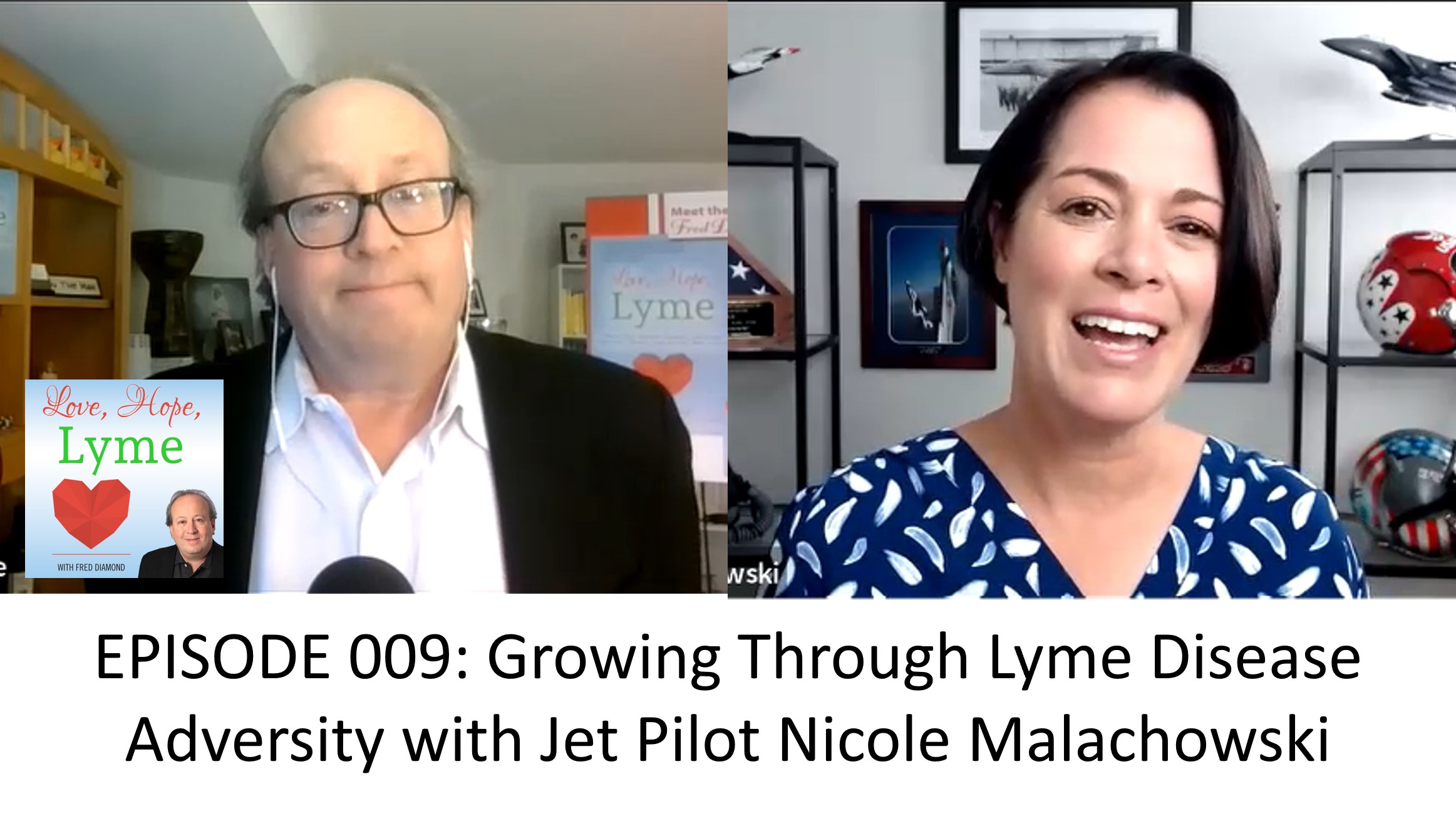 For the next four years, she could not get the Air Force to believe that she had tick-borne illnesses, although they sent her to many well-known medical centers and had many tests run.
"We've Ruled Everything Out"
They said, "We've ruled everything out. It's got to be either neuropsychiatric, or it's got to be fibromyalgia."
She detailed one interaction when a Navy medical doctor took her hand, looked her in the eye, and condescendingly said, "You have been a high-performing woman in a male-dominated career field for many years. Maybe this is your body's way of saying it's time to retire."
In retrospect, she regrets not bringing her supporters to her medical appointments.
"I didn't know what the word gaslighting meant prior to becoming a tick-borne illness patient, but I know what it is now. I found that I was treated more seriously, and more respectfully, and with dignity every time I brought somebody with me."
Eventually, though, Nicole said she tested positive for five different tickborne illnesses: Borrelia burgdorferi (Lyme), Borrelia hermsii, Anaplasma, Babesia microti, and Bartonella henselae.
"For four years, it had been multiplying, getting worse, getting further into the central nervous system. From the time of that first rash to the time of my accurate diagnosis and beginning treatment, 1,525 days had passed, more than 24 doctors across eight specialties were seen, and three misdiagnoses were made along the way."
Losing her career
"(After the proper diagnosis) That started about nine months of being bedridden, not able to walk, talk, read, or write in any meaningful way, and another year and a half in rehab," she disclosed. "During that two-year period, I was unable to interact with my children who were between the ages of five and seven, and I lost my career. The Air Force medically retired me."
She said she was devastated when her identity as a fighter pilot was taken away but that she eventually learned to rethink how she viewed herself.
"I now know that your job shouldn't be your identity. Boom, I go from this elite, high-performing person, physically and mentally, to just being completely broken overnight. I'm this independent confident type A fighter pilot, and now I can't even go to the restroom by myself or bathe by myself—overnight," she disclosed.
The challenges of maintaining relationships
She learned the challenges with maintaining relationships and friendships, and the unfortunate abandonment that may come with it, when you have a chronic illness.
"This disease stops you from being as reliable and dependable on follow through as you can be. There's compassion fatigue."
She said that she learned chronic illness requires patience on the part of the patient, the caregivers, loved ones, and friends. Sometimes the patience is a challenge when people do not understand the complications around Lyme disease including the "unnecessary controversy, the unnecessary stigma, and the outright mocking of patients that makes it hard for other people to be courageous on your behalf."
She said, "You're having to navigate a system that doesn't believe you, doesn't support you, and honestly has not much right now to offer you in terms of care."
Her advice to Lyme survivors and those who want to support them is to not lose patience.
"When I was a fighter pilot, when we would go into combat, which in a lot of ways is what we are in against this disease and the medical system that doesn't support us," she said. "I would say to my wingman before we would launch, "No matter what, be a help, not a hindrance. Ask yourself, is what I'm about to say or do going to be helpful? Or is it going to be a hindrance?"
Applying her jet pilot training to recovery
She said that everything that she needed to be a good fighter pilot, such as discipline, focus, commitment, determination, and confidence are the traits and the characteristics she needed to survive the worst depths of her illness and to thrive today, even though she still lives with chronic symptoms.
"All of those characteristics and traits apply to every single patient. You all should be proud of yourselves. It has been harder to be a tick-borne illness patient than it ever was to fly in combat. I found the Lyme disease community to be as courageous and even more so, in some cases, as honorable and noble as the fighter pilots and the men and women that I went to war with," she offered.
In conclusion, she said, despite the suffering, there are a lot of great things going on in the tick-borne illness community.
"I have seen the momentum in the last three to five years accelerating at a pace that I could have never imagined. Look at the scientists, the doctors, the clinicians, the nonprofit leaders, the advocates who are out there making a difference. We are so close, I think, in my lifetime, to this tipping point. This is something we should all be excited about, and this is something that gives me hope."
Learn more about Nicole's battles and successes here.
Click here to listen to all episodes of the Love, Hope, Lyme Podcast.
Fred Diamond is based in Fairfax, VA and can be contacted via Facebook. His book, "Love, Hope, Lyme: What Family Members, Partners, and Friends Who Love a Chronic Lyme Survivor Need to Know" is available on Amazon. The e-version of the book is always free to Lyme survivors. PM Fred on Facebook for your copy.