Hard-earned "Lyme education" shouldn't go to waste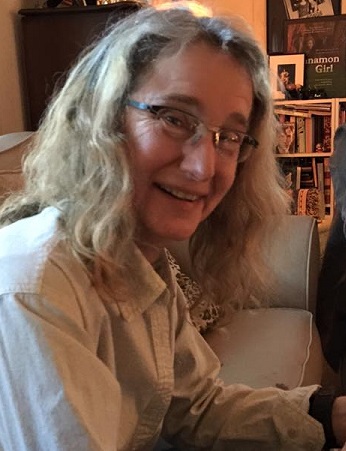 This is one of a series of guest blogs by people who have enrolled in MyLymeData.
by Sandi Bohle
I've probably had Lyme disease since 2007/08, when I first started noticing muscle weakness, fatigue, headaches, and not being able to catch my breath. At the time, I lived in New York's Hudson Valley, near the Hudson River and the Catskill Mountains. It was a beautiful place, and I spent a lot of time outdoors.
I ignored my symptoms for quite awhile. My doctor in NY dismissed my bites as spider bites, because I never had a bull's-eye rash and my bites were along my hairline on the back of my head. My doctor wouldn't test for Lyme disease (or anything else), telling me I was just overworked and stressed.
I have worked in the entertainment industry for over thirty years, as a lighting designer, technician, stage manager, and production manager. It is a physically and psychologically taxing industry. As my symptoms escalated over the next few years. I had to change the way I did my job, depending more on my co-workers and looking for easier ways to get things done. Meanwhile, my doctor still insisted that I was fine.
My world came crashing down July 4th, 2011, a month after I'd moved back to Los Angeles, when the sidewalk outside the post office jumped up and grabbed me. My legs had collapsed with no warning. Knowing something was desperately wrong, I rode an emotional roller coaster of stupidity, doctors, tests, of being mis-diagnosed with MS, ALS, Parkinson's, Epstein-Barr, lupus, and fibromyalgia, as well as being told it was all in my head.
My long list of symptoms included falling down, extreme pain, numbness, brain fog, mini-seizures, and vision problems. My intuition said chronic Lyme, since I had many of its classic symptoms. But no doctor would order any definitive tests. They either doubted or ignored me.
One physician did want to help me, but was puzzled by it all. She sent me off to a major university medical center, assuming that the experts there would figure it out. Those doctors first said fibromyalgia. They then diagnosed me with ALS (Amyotrophic Lateral Sclerosis, or Lou Gehrig's disease) and put me on a combination of pain killers and muscle relaxants that just made me stupid and unable to function.
Then they sent me home to die. I swear it was just to shut me up because I kept asking them to test for Lyme. They would ask me at every appointment why I thought it was Lyme. I brought in armloads of paperwork and reports on the rise of Lyme in NY's Ulster and Dutchess counties, where I had lived and which at that time had the highest incidence of Lyme in the country. The doctors still rejected Lyme as a possibility.
They also gave me a flu shot that made me unable to use my arms for a week. Someone had to take care of me. That same week I went for a free consultation at an out-of-network medical group that specialized in Lyme. After sitting with me for half an hour, this doctor knew intuitively that it was Lyme.
In November 2011, I started paying out of pocket to see her, because my medical insurance wouldn't pay for it. She immediately ordered blood tests that confirmed four co-infections: Babesia, Bartonella, Mycoplasma, and Rocky Mountain spotted fever. My doctor has been great. I've been with her for more than four years now. She ran a blood culture and we got our definitive answer in April 2012….late stage chronic Lyme. Vindication! I also had a funny sense of relief because it wasn't ALS (little did I know what was to come….).
I had to stop working. Lyme had settled in my central nervous system and brain, bringing major cognitive issues. I also lost a lot of weight. (I don't recommend this method of weight loss. I went from a size 12 to a size 4.) A port-a-cath was put in my chest in July 2012 so we could cross the blood-brain barrier with heavy doses of IV antibiotics, seven days a week. My insurance paid for a few months for this. After that, I cashed everything out to take care of myself. My life insurance, my annuity, my 401k. Maxed out my credit cards. Life had changed as I never imagined it could.
It's been a battle with a "take no prisoners" attitude. After rounds of heavy duty antibiotics, herbal protocols, supplements, and supportive IVs, I'm now a year into remission. I'm almost completely back now. I'm working again and go to the gym three days a week. In my darkest days, I never imagined that I would return ever to this reality. And yet, here I am.
I've learned a lot about what works for me through these years of treatment. And I don't want all this "education" to go to waste. That's why I've signed up for MyLymeData. It's a way for Lyme patients to pool their experiences, so researchers can look for patterns—an important step to finding effective testing and treatment. And eventually a cure!
Won't you join me, by adding your Lyme data to MyLymeData? Let's get this show on the road.
Click here for more information about MyLymeData.
Sandi Bohle is a Lyme activist in Southern California.