LYMEPOLICYWONK: The problem of misdiagnosis in Lyme disease
My presentation to the Society to Improve Diagnosis in Medicine.
On November 3, I was honored to give a presentation at the Patient Summit  of  the Society to Improve Diagnosis in Medicine's (SIDM) annual  Diagnostic Errors in Medicine (DEM) conference.
This nonprofit organization seeks to integrate and engage patients and family members in all diagnostic improvement efforts,  including research, to reduce diagnostic delays and avoid missed diagnosis.
LymeDisease.org is a patient partner with SIDM's Patients Improving Research in Diagnosis (PAIRED) project. We value the opportunity to work with this group to amplify patient concerns about how misdiagnosis and delays in diagnosis harm patients.
My speech—which draws on insights from the MyLymeData patient registry—highlights some of the factors that contribute to delayed diagnosis in Lyme disease.
Misdiagnosis is unfortunately quite common in Lyme disease. Most patients with late or chronic Lyme disease were either misdiagnosed or waited years for their diagnosis—with devastating consequences.
We know that early diagnosis in Lyme disease can spell the difference between patients who get well quickly and are able to get on with their lives, and those who remain ill or whose course of treatment is much more difficult.
Click the link below to hear my presentation.
SIDM's PAIRED project is funded by the Patient-Centered Outcomes Research Institute and the organization has also received funding from the Agency for Healthcare Research and Quality, both of which were created by and are funded by the U.S. Congress.
A large part of SIDM's focus is on identifying and preventing diagnostic errors, using a diagram first developed by the Institute of Medicine (now the National Academy of Medicine) in its highly acclaimed report "Improving Diagnosis in Health Care."
This report identifies different points along the path to diagnosis where things can go wrong and diagnosis can be delayed or missed.
We have modified the graphic from the report that illustrate points of diagnostic error to reflect the diagnostic issues we encounter in Lyme disease.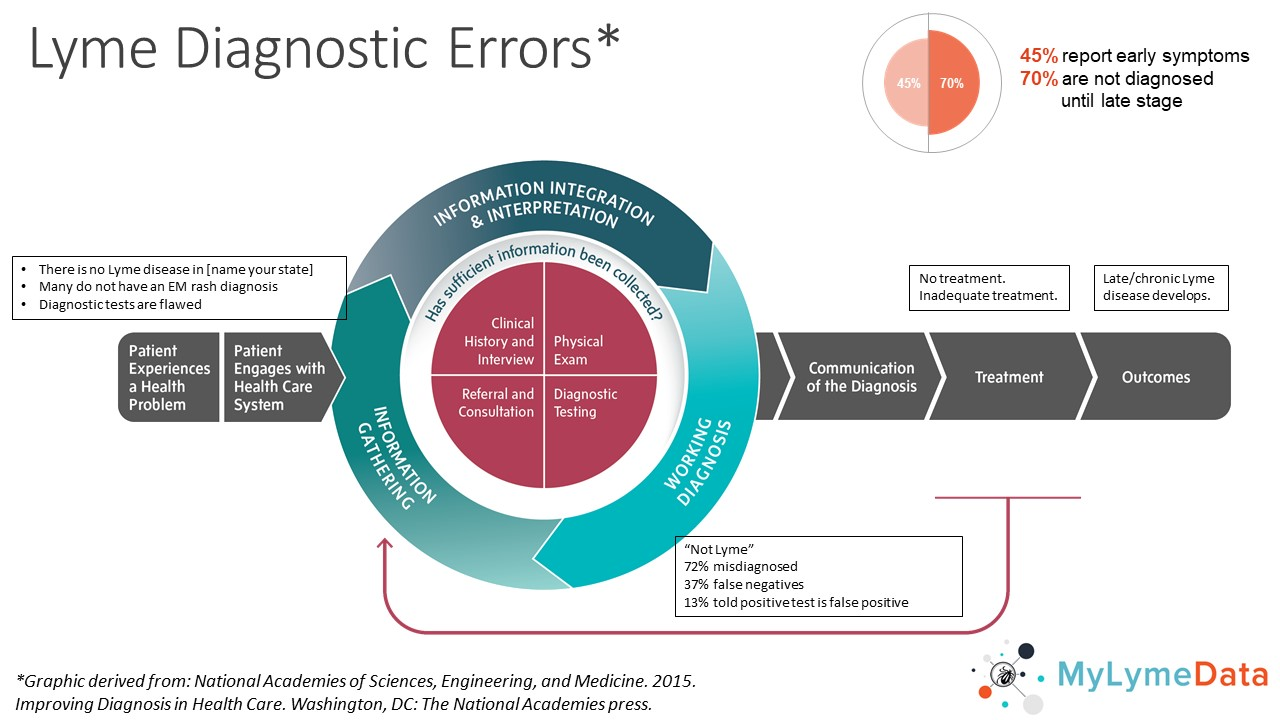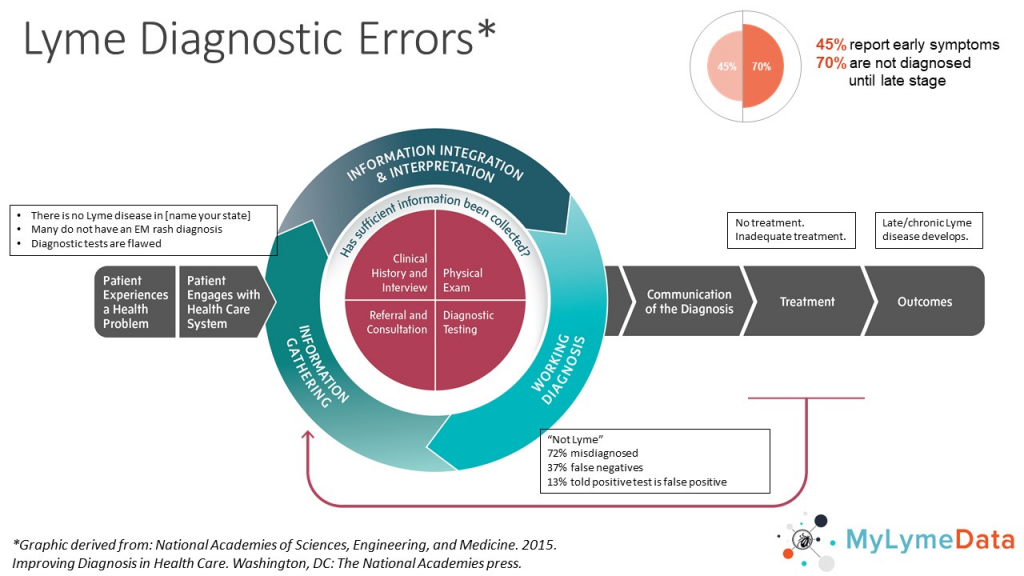 Click here to learn more about the Society to Improve Diagnosis in Medicine.
Lorraine Johnson, JD, MBA, is the Chief Executive Officer of LymeDisease.org. You can contact her at lbjohnson@lymedisease.org. On Twitter, follow her @lymepolicywonk. If you have not signed up for our patient-centered big data project, MyLymeData, please register now.