TOUCHED BY LYME: Ski champ shares her "LymeLight" in new film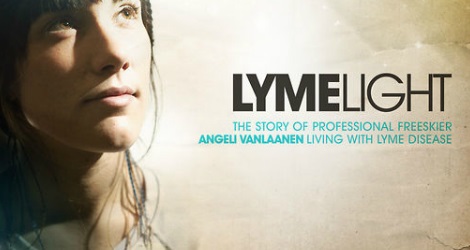 Watch her inspirational 30-minute documentary for free on-line
In the mid-2000s, an observer might have thought professional freeskier Angeli VanLaanen was headed for the Olympics. But even though she was a phenomenal skier, in the background, she was struggling with a strange variety of physical symptoms that threatened her ability to keep going. By 2009, she was seriously impaired and not one of her doctors could figure out what was wrong.
Finally, her aunt Jenny suggested she get tested for Lyme disease. The results were positive. Under the treatment of a Lyme-literate doctor, she underwent an arduous struggle to regain her health and return to skiing. She also decided to make a film about her experience.
"When I was diagnosed in November of 2009, I struggled to find a hopeful outlook on my diagnosis," Angeli remembers. "I searched high and low for a Lyme treatment success story to look up to, but only found horror stories and a grim reality for people battling Lyme disease."
She wanted to demonstrate to other people with Lyme that there is hope, that it's possible to get well. Click here to watch her film, "LymeLight."

LymeLight – The Story Of Professional Freeskier Angeli VanLaanen Living With Lyme Disease from NEU PRODUCTIONS on Vimeo.
TOUCHED BY LYME is written by Dorothy Kupcha Leland, LymeDisease.org's VP for Education and Outreach. Contact her at dleland@lymedisease.org.