NEWS: Persistent Lyme infection may cause hepatitis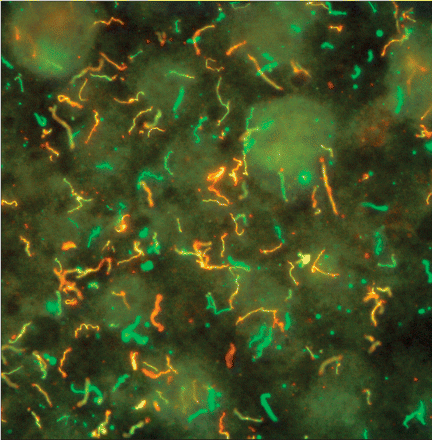 "The CDC keeps asking for 'credible scientific evidence' that persistent infection may cause problems in these patients. We have delivered that evidence on a silver platter."
Press release from Union Square Medical Associates:
San Francisco, CA (PRWEB) June 22, 2014
A new study suggests that persistent infection may cause hepatitis (inflammation of the liver) in Lyme disease. The study was published in the online journal Research Open Access.
Lyme disease is a tickborne infection caused by Borrelia burgdorferi, a type of corkscrew-shaped bacteria known as a spirochete (pronounced spiro'keet). Last summer, the Centers for Disease Control and Prevention (CDC) announced that Lyme disease is much more common than previously thought, with over 300,000 new cases diagnosed each year in the United States. That makes Lyme disease almost twice as common as breast cancer and six times more common than HIV/AIDS.
"Our findings show that persistent infection can cause problems in Lyme disease," said Marianne Middelveen, lead author of the study published online this week. "We have used sophisticated diagnostic techniques to show that the Lyme spirochete can attack the liver despite antibiotic therapy."
The present study was a collaborative effort by an international team of scientists. In addition to Middelveen, a veterinary microbiologist from Canada, researchers included molecular biologists Jennie Burke, Agustin Franco and Yean Wang and dermatologist Peter Mayne from Australia working with molecular biologists Eva Sapi, Cheryl Bandoski and Arun Timmaraju, pathologists Alan MacDonald, Steve McClain and Joel Israel, and internist Raphael Stricker from the United States.
In the study, researchers examined a patient who developed a type of liver inflammation called granulomatous hepatitis during treatment for Lyme disease. Using immunological and molecular testing, they discovered live spirochetes in blood samples from the patient. A liver biopsy also showed evidence of active Borrelia burgdorferi infection using the same sophisticated detection methods. Other infectious and immune causes of hepatitis were excluded.
"The presence of the Lyme spirochete in blood and liver tissue supports persistent infection," said Dr. Mayne. "It looks like antibiotic treatment failed to eradicate the disease in this patient."
Dr. Stricker pointed out the implications for Lyme disease patients raised by the study. "The CDC keeps asking for 'credible scientific evidence' that persistent infection may cause problems in these patients," he said. "We have delivered that evidence on a silver platter."
Reference: Research Open Access 2014;1:875.
Read the full article: http://dx.doi.org/10.13070/rs.en.1.875.