TOUCHED BY LYME: Financial destruction from Lyme disease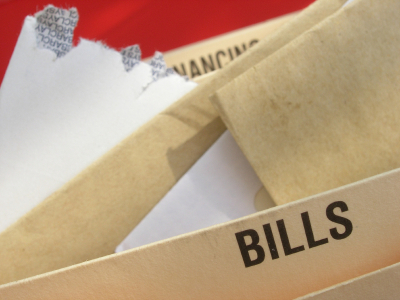 The illness damages more than your body. It can also demolish your bank account.
We all know how hard it is to get accurately diagnosed with Lyme disease. Even with a known tick bite and a bull's-eye rash, people are too often told by their doctors that they can't possibly have Lyme because "there's no Lyme in this area" or "that's not a bull's-eye rash, it's ringworm" or "(fill in your own stupid reason here)."
We know that delays in treatment let the spirochetes burrow into your body where they become hard to eradicate and cause even more problems. And that finding a proper diagnosis and appropriate treatment is difficult, expensive, and typically not covered by insurance. On top of that, you're probably too sick to work. Before long, your finances are in tatters.
This morning I received an email from a 37-year-old woman in Los Angeles who has been hideously sick for two years. It began with a tick bite and a bull's-eye rash. (See paragraph one for what her doctor told her.) She faces eviction and is all alone.
"I'm now at my lowest, most scared point of my life. …I was already sick everyday as the Lyme has definitely gone into my joints and my brain. I can't focus, think straight and literally walking to the store just to get food is hard on me…I now owe the landlord 3k and he is about to begin the eviction process…I filed for disability but it takes 6 months and that's if I'm approved. I have no one to help me."
Her story is heartbreaking, but far from unique. Via email, on-line Lyme discussions, and support groups, I hear from many other people in circumstances just as dire. People sick with Lyme don't just need the right medical treatment. They need food and shelter, too.
If you or someone you love is in this situation, here are a few suggestions:
Find out what resources are available through your state or county. One place to start is at benefits.gov, an official website of the US government. It tells you what benefits you may be eligible for and how to apply. Click on your state to find specifics about food and housing assistance.
http://www.benefits.gov/benefits/browse-by-state
Some aid programs are administered through counties, which may have websites and help lines. For example, Los Angeles has the County Department of Public Social Services. The website is
Programs can vary from place to place. According to the Los Angeles County website, the CalFresh program (previously called food stamps) allows qualified elderly, disabled, and homeless recipients to purchase hot, prepared meals with EBT cards at approved restaurants. (If they are unable to prepare food for themselves.)
The charity "Feeding America" has a nationwide food bank locator on its website.
http://feedingamerica.org/foodbank-results.aspx
The website of the National Association of Area Agencies on Aging also provides a lot of information about services available to older and disabled Americans.
For a list of Lyme information resources, which include a few avenues for financial assistance:
https://www.lymedisease.org/lyme-info-links/
A Lyme patient maintains a website called Lyme Underground, which includes a section called "Getting By on a Limited Budget."
http://lymeunderground.com/survival-tactics-getting-by-on-a-limited-budget/
I wish I had a magic wand that could fix everybody's health and money problems. Since I don't, I hope some of these suggestions will prove useful to Lyme patients who feel they've reached the end of their financial tether.
If you are not sick yourself but know someone struggling with financial destruction from Lyme disease, perhaps you could help them look into some of these programs. And if you know of other helpful resources that aren't mentioned here, please send me the information. I'll do my best to spread the word.
TOUCHED BY LYME is written by Dorothy Kupcha Leland, LymeDisease.org's VP for Education and Outreach. Contact her at dleland@lymedisease.org.