The following is a selected list of LymeDisease.org's resources from speeches, publications, and other documents.
The latest ILADS guidelines were published in 2014 in an open access journal. The guidelines cover three common issues faced by clinicians: management of a known tick bite, antibiotic treatment of patients with erythema migrans rash, and management of patients who remain ill following antibiotic therapy for Lyme disease. Cameron DJ, Johnson LB, Maloney EL. Evidence assessments and guideline recommendations in Lyme disease: the clinical management of known tick bites, erythema migrans rashes and persistent disease. Expert review of Anti-Infective Therapy. 2014 Sep;12(9):1103-35.
This document (written by Johnson) presents a summary of the controversy surrounding the divergent treatment approaches reflected in the Lyme disease guidelines of the Infectious Diseases Society of America and the International Lyme and Associated Diseases Society. Because there are two standards of care in Lyme disease, patients should be advised of the benefits and risks associated with both treatment approaches.  They  have the right to engage in shared medical decision making with their physicians, a process that recognizes the importance of patient values and preferences in decisions that impact quality of life.
Support for Massachusetts Insurance Legislation on Lyme disease: A Problem of Displaced Costs
Drawing on our survey results and a key cost of illness study by Dr. Zhang of the Centers for Disease Control and Prevention, our submission in support of MA insurance legislation tells the story of how the costs of Lyme disease has been displaced by insurers onto patients, their families, society and public governments. This is particularly true in late Lyme disease, where the average annual costs exceed $20,000. Insurers bear just 12% of these costs, while patients bear the remaining 88%. Loss of productivity, when patients aren't able to work, is the lion's share of this—a staggering 54%.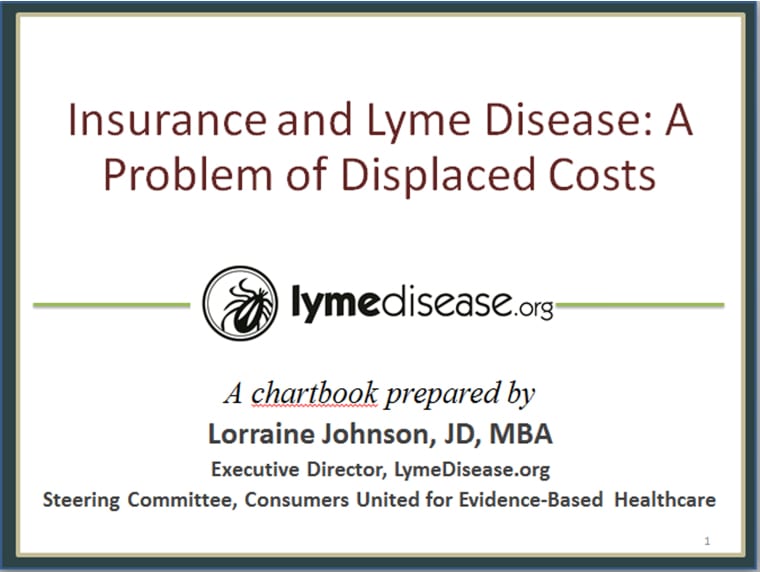 This study, published in PeerJ in 2014, reports the results of an LDo survey of more than 3,000 patients with chronic Lyme disease. It found that chronic Lyme disease may be long lasting, may significantly impair patient quality of life, and may be costly to patients, employers, healthcare systems and society. Half of patients with chronic Lyme disease report that they have been ill for more than 10 years, and these patients suffer a worse quality of life than subjects with most other chronic illnesses including congestive heart failure, diabetes, multiple sclerosis and arthritis. Over 43% report that they had to stop working and 25% report that they have been on disability at some point in their illness. They are five times more likely to visit healthcare providers and twice as likely to be seen in emergency rooms than the general population. The study, which is available open access, should be cited as: Johnson L, Wilcox S, Mankoff J, Stricker RB. Severity of chronic Lyme disease compared to other chronic conditions: a quality of life survey PeerJ. 2014; 2:
This study reports the results of an LDo survey of more than 2,400 patients with Lyme disease. It examines problems with access to healthcare and burden of illness, and it found that although patients with Lyme disease suffered a substantial burden of illness, they had significant barriers to healthcare access. Specifically, patients with Lyme disease had difficulty obtaining diagnosis and treatment for their illness, traveled great distances to receive healthcare, were turned down for health insurance based on their illness, and had difficulty receiving care at local hospitals. More details are reported in a LymePolicyWonk blog. The study was published in a highly regarded peer review journal and should be cited as: Johnson, L, Aylward, A, and Stricker, R. Healthcare access and burden of care for patients with Lyme disease: A large United States survey. Health Policy, Volume 102 , Issue 1 , 64 – 71.
LDo Executive Director Lorraine Johnson, JD, MBA, presented at the Lyme forum hosted by New York Congressman Chris Gibson at Skidmore University on May 21, 2012. The speech focuses on the financial burdens associated with Lyme disease using the results of LDo's access to healthcare survey study. A video of the speech is available, as are slides from the speech.
Two-tiered lab tests are no better than a coin toss. Dr. Stricker and Lorraine Johnson published an article that contains a table listing the results of different studies regarding lab sensitivity, Lyme disease diagnosis and treatment: Lessons from the AIDS epidemic. Minerva Med. 2010; 101: 419-25. This article is behind a paywall, but this blog post summarizes the state of lab tests and recreates the lab insensitivity table.
Persistence of Lyme disease after antibiotic treatment has been demonstrated in both animals and humans. In 2011, Dr. Stricker and Lorraine Johnson published an article that listed over 25 studies demonstrating persistence in humans after two-to-four weeks of therapy, Lyme disease: The next decade. Infect Drug Resist. 2011;4:1-9. This article is behind a paywall, but this blog post provides a good summary and recreates the persistence table.
The Embers monkey trials, persistence, and the IDSA guidelines
The Embers study essentially dismantles much of the science that the IDSA relies on in its Lyme guidelines. This table compares the assumptions and recommendations of the IDSA guidelines that the Embers study refutes. This is just one of the many reasons the IDSA guidelines should be revised. For further background on the Embers trials see the following LymePolicyWonk blog posts.
Read the journal article here.
Lorraine Johnson, JD, MBA wrote this article for the April 2014 issue of the law journal Medical Legal Perspectives, regarding the importance of informed consent in the treatment of Lyme disease. The topic is the role of patient informed consent when there are two standards of care and the science is uncertain. You can download the article here.
A Federal Failure in Lyme Research, Guidelines, and Accountability: CDC and NIH Allow Private Interests of the IDSA to Set Federal Agenda in Lyme Research and Dictate Lyme Policy without Oversight. The government has an obligation to represent the interests of the public, to act impartially in an open and transparent manner, and to be accountable for its actions. Disturbing new facts obtained in a Freedom of Information Request filed by Kris Newby, the investigative reporter who produced Under Our Skin, reveal that an ad hoc group composed of members of the Infectious Diseases Society of America (IDSA), a medical specialty society, along with members of the Centers for Disease Control & Prevention (CDC) and the National Institutes of Health (NIH), has been acting in violation of fundamental principles of ethics. This group has been covertly setting government Lyme policy, intentionally excluding other stakeholders, running afoul of government open meeting standards, and deliberately subordinating the public interests to those of a private medical society.
On September 29th, 2010, Congressman Christopher Smith (NJ) introduced into the Congressional Record a report exposing the gaps in research in Lyme disease. The report was originally commissioned by the Institute of Medicine (IOM) from LymeDisease.org (previously California Lyme Disease Association), the national Lyme Disease Association, and Time for Lyme. However, the three groups pulled out of the IOM process because of a lack of transparency and the high degree of bias in the process, which undermined its integrity and could harm patients. Details regarding the pullout are here. The Congressional Record report emphasizes that patients with Lyme disease need a research agenda that reflects outcomes that matter to patients, namely effective diagnostic tools and effective treatments that restore them to health.
In 2010, Lorraine Johnson and Dr. Stricker published this article detailing the flaws in the IDSA guidelines development process. The article underwent a particularly brutal and suppressive peer review process at the hands of IDSA peer reviewers before it landed at the Journal of Philosophy, Ethics, Medicine and Humanities, where it became the fifth most widely viewed article for the journal for all time with over 27,000 views. The article is available free open access. The Infectious Diseases Society of America Lyme guidelines: a cautionary tale about the development of clinical practice guidelines. Philos Ethics Humanit Med. 2010;5:9