Latest issue of The Lyme Times looks at disability denials for Lyme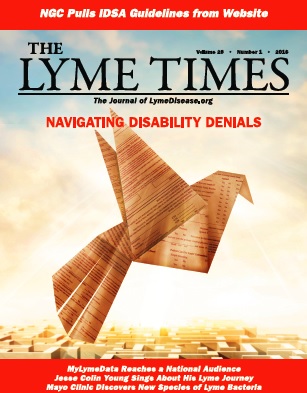 The new issue of The Lyme Times has been mailed to members of LymeDisease.org.
Here are some of the topics covered:
–What to do when your disability claim is denied
–The fine art of tick testing
–CDC ethics complaint filed on behalf of Lyme patients
–MyLymeData goes to Washington
–Jesse Colin Young's Lyme song…and much much more
If you aren't yet a member, join now to receive your copy.
Starting with our next issue, The Lyme Times shifts to a new, all-digital format. Phyllis Mervine explains details here:
The Lyme Times is going digital! This will offer you greater accessibility, stretch your donations to make a bigger impact in the Lyme community, and be environmentally friendly. Rest assured, we will continue to deliver the same quality content you're used to with some added benefits, such as video, other digital content, and interactive surveys.
We will also be publishing special issues dedicated to important subjects, like the unique challenges faced by children with Lyme and a look at the wide variety of alternative treatments. With your computer's search tool, you'll quickly find the topics you are most interested in.
The digital Lyme Times will be convenient and accessible wherever you are, instantly. You will be able to read it on your phone, tablet, or computer.  You can also print or download individual articles to share with your healthcare provider or with other patients in the waiting room. We will notify you when a new issue is published so you can read it several weeks earlier than you would normally receive the print version by mail.
The decision to switch to a digital version of The Lyme Times was a difficult one. For 27 years we have created the print publication you enjoy receiving and reading. However, the increasing expense of print and fulfillment became unsustainable for us as a nonprofit organization. It detracted from our commitment to help improve the lives of people with Lyme and other tick-borne diseases.
Our most recent issue of The Lyme Times, Vol. 28 No. 1, will be our last printed version. This issue has already been mailed to members of LymeDisease.org. If you aren't yet a member, join now to receive this issue in your mailbox soon.
We value YOU and your commitment to the Lyme community. We thank you for your continued support as we grow and develop in our mission to prevent Lyme disease, prevent early Lyme disease from becoming chronic and to ensure quality and appropriate treatment and access to care for all patients with Lyme disease. The health and happiness of our members is important to us.  Please contact us if you have any questions.
Phyllis Mervine, founder and president of LymeDisease.org, is Editor-in-chief of The Lyme Times. Contact her at pmervine@lymedisease.org.