TOUCHED BY LYME: "Why so long to diagnose?" Why, indeed?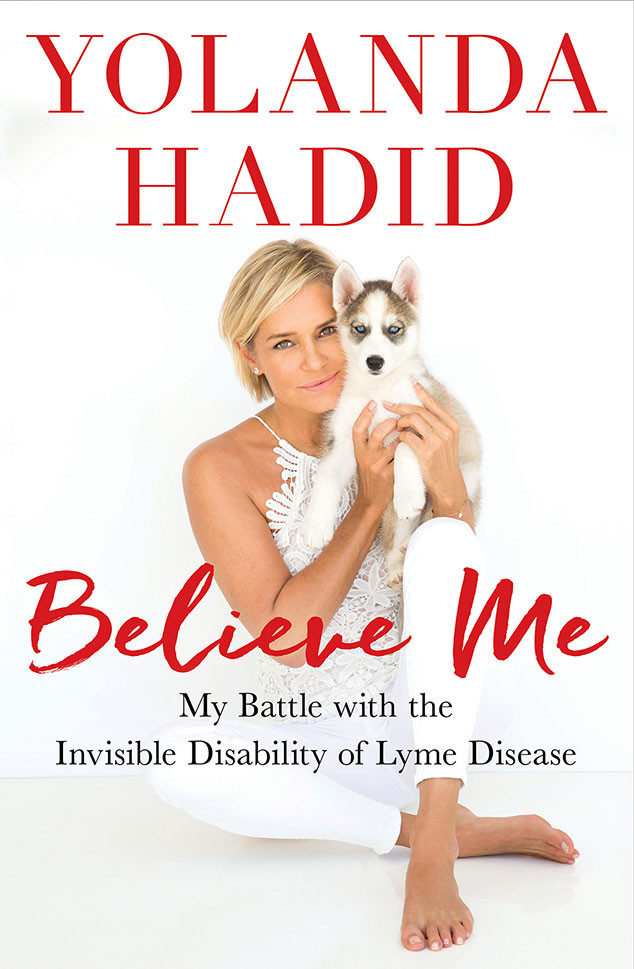 SELF magazine recently wrote about "Real Housewife" Yolanda Hadid (formerly Foster) and her upcoming book Believe Me: My Battle with the Invisible Disability of Lyme Disease.
The article says Hadid was sick for a year before getting diagnosed with Lyme. It notes that it also took a year for singer Avril Lavigne to receive a Lyme diagnosis.
The magazine then asks a reasonable question: why does it take so long for people to get diagnosed with Lyme disease? Then it answers that question, unreasonably I feel, by saying "Luckily, this long journey to a diagnosis is atypical."
The reporter arrived at that conclusion after interviewing three IDSA doctors, who all give standard, IDSA-approved responses:
"It isn't common for a Lyme disease diagnosis to take a year."
"Usually it's picked up in the acute, early phase."
It's "extreme" to take up to a year to get a diagnosis.
Unfortunately, that's not the world that the rest of us live in, is it?
According to MyLymeData, which so far has surveyed 4700 patients with chronic Lyme disease, only 1/3 of respondents were diagnosed within the first year of their illness. For most of them, diagnosis took three years or longer.
(Three years or longer of pain and misery, either with no treatment at all or else treatment aimed at whatever they were misdiagnosed with.)
Sticking to the IDSA playbook, one of the doctors explains that treatment usually involves antibiotics for 10 to 14 days if you're in the early stage of Lyme disease and up to four weeks of antibiotics if your Lyme disease is more advanced.
And after that, TA-DA, you're cured!
"The overwhelming majority have no issues after the acute illness is treated," the ID doc says.
Again, that's not the world we live in, is it?
For the record, SELF magazine: there are two sides of the question when it comes to Lyme disease.
One side, the IDSA, says Lyme is easily diagnosed and then treated with a few short weeks of antibiotics. They deny treatment to Lyme patients who don't fit their narrow diagnostic criteria, and they deny the existence of chronic Lyme. Their good friends—the CDC and the insurance industry–stand on that side of the divide with them.
However, if the IDSA's version of reality were true, there'd be no need for the other side, which is getting more crowded every day.
Here on the other side, you'll find legions of people who are very sick with Lyme. After little or no treatment, they have been kicked to the curb by the medical establishment, no matter how much they are suffering.
Here on the other side, you'll also find members of the International Lyme and Associated Diseases Society, the ILADS physicians who are willing to help chronic Lyme patients when nobody else will. Along with many scientists whose research contradicts the IDSA's one-size-fits-nobody view of Lyme disease.
Also here on the other side, you'll find thousands of dedicated advocates–Lyme patients themselves, along with friends and family of those with Lyme–toiling to bring some measure of justice to this acutely unfair situation.
If it's celebrities you're looking for, there are plenty of them on this side as well, in addition to Hadid and Lavigne. Just this week, it was revealed that singer/songwriter Kris Kristofferson doesn't have Alzheimer's, as many had feared, but in fact has Lyme disease.
Also standing on this side: Ally Hilfiger. Darryl Hall. Debbie Gibson. Jesse Colin Young. Punk rocker Kathleen Hanna. Baseball Hall of Famer Tom Seaver. WNBA basketball player Elena Delle Donne. Olympic gold medalist Christi Rampone. Bestselling author Amy Tan. The list goes on.
A doctor quoted in the article says the average person "shouldn't stress" about contracting Lyme disease. Because it's unlikely to happen, and if it does, it's "easily treatable."
Alas, that's not the world the rest of us live in.
TOUCHED BY LYME is written by Dorothy Kupcha Leland, LymeDisease.org's VP for Education and Outreach. She is co-author of When Your Child Has Lyme Disease: A Parent's Survival Guide. Contact her at dleland@lymedisease.org.