"The Great Imitator"–virtual reading and talk back, May 28
May 28 @ 6:00 pm

-

8:00 pm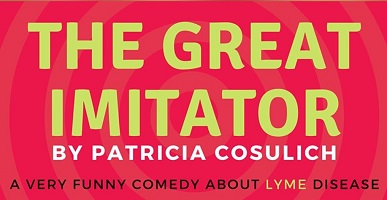 Join us for a reading of the latest draft of a play called "The Great Imitator," formerly known as In the Lymelight Monologues. May 28, 6 pm Pacific Time, 9 pm Eastern.
ABOUT THE PLAY:
Raising awareness for Lyme disease with a blend of documentary theatre and imaginative departures from reality. Written by Patricia Cosulich, who spent eight years fighting for her own diagnosis, this play is inspired by lived experience and a series of interviews with patients, doctors, loved ones, and advocates. Further, many of our actors and members of our creative team live with illnesses and disabilities and have provided feedback on the development process. Lily tries to call out sick from her own show, except instead she is thrust on a journey of uncertainty. From encounters with a personified, satirical, self-aware Pathogen to a Fairy Godmother, this play follows Lily's quest for answers. She ends up discovering a whole lot more than she bargained for.
Featuring: L.A. Woodside, Christa Nannos, Tara Coffey, Jessica Alcantar
After the reading, you will be invited to join us for a talkback with the playwright (Patricia Cosulich), director (Diana Wyenn), and representatives from the Lyme community.