8 pages of Lyme info inserted into NY newspapers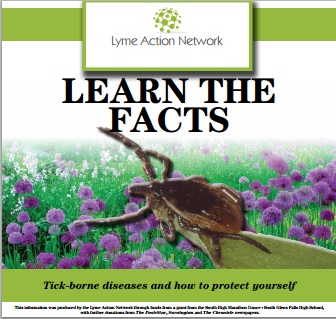 Lyme Action Network, a New York-based advocacy group, has developed an eight-page newspaper insert with information about tick-borne diseases. Titled "Learn the Facts," it was included in the Post Star in Glen Falls on Sunday, Aug. 2, and is scheduled for the Saratogian, the Record, the Community News, and the Chronicle on Aug. 6.
Publication is made possible by a grant from the South High Marathon Dance ‪with additional assistance from the Post Star, the Saratogian, and the Chronicle.
Click here to see a PDF online copy.
If you would like to arrange to have this publication inserted into YOUR local paper, anywhere in the country, please contact: info@LymeActionNetwork.org