LYMEPOLICYWONK: AIDS Advocacy–A Model for Change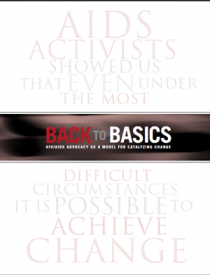 This is a terrific resource that explains what made the AIDS patient advocacy movement successful. It's is available for free. Here's an excerpt: "Change is possible. But in order to
create change, the focused voices of advocates must be heard through the din. Individuals and organizations must do the hard work of becoming ready to question the status quo, and be smart enough to present well-founded alternatives. Strong leaders in government must pave the path and prepare to stay the course. Specific strategies with clear goals must be established in order to hold people accountable."
Back to Basics: HIV/AIDS Advocacy as a Model for Catalyzing Change
Thirty years after the emergence of the HIV/AIDS epidemic, a new report released June 16 examines how HIV/AIDS advocacy redefined patient engagement in the medical research process, and changed the drug development paradigm.  The report, Back to Basics: HIV/AIDS Advocacy as a Model for Catalyzing Change, highlights how people affected by HIV rallied together and created an advocacy movement that demanded change and got results. The milestones of this movement include transforming the research system through patient-driven clinical trials, improving the regulatory paradigm through expanded and accelerated access mechanisms, and garnering political will needed to support federal investment in research and care. Ultimately, its most significant accomplishment was transforming HIV/AIDS from a death sentence to a chronic, manageable illness as  long as access to medicines following diagnosis is assured.
Excerpt:
HIV/AIDS activists organized and engaged in civil disobedience to get the nation's attention. It was an all-out 'our bodies are on the line' exercise. Never before had this country seen thousands of sick people laying their bodies down on Wall Street. Or chaining themselves to the fence of the FDA. Or storming the NIH. "You have to be able to inspire people at a level of civil disobedience," noted Jim Curran, M.D., who was then the director of HIV/AIDS at the CDC. "Throwing condoms in St. Patrick's Cathedral, I mean, who does these kinds of things? They were not afraid to get arrested."
The LYME POLICY WONK blog is written by Lorraine Johnson, JD, MBA, who is CALDA's Chief Executive Officer. Contact her at lbjohnson@lymedisease.org.