LYMEPOLICYWONK: Who Died and Made You King? Eminence Based Medicine in Lyme Disease Breaks All the Rules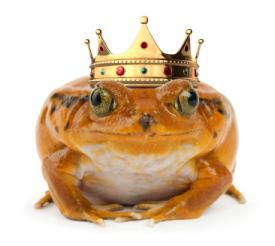 In the movie "The King's Speech", the Duke of York tells his unorthodox speech therapist Logue that he has "been t-t-treated f-or this by the f-f-finest ph-ph-physicians." Logue responds: They are idiots. When the Duke protests that "Th-they h-h-have knighthoods", Logue responds "Well, that makes it official that they are idiots." He is talking about hubris and arrogance interfering with medicine and science. So it is with "eminence based medicine"–guidelines that hinge upon the opinion, bias and arrogance of physicians that hold a particular viewpoint rather than science. The IDSA has been called to task in research by its own members that find that the IDSA's guidelines are based mostly on opinion—not evidence.
The lack of evidence in IDSA guidelines is laid out in two separate studies by IDSA members who reviewed the evidence in most of IDSA guidelines.  Rather than address this serious deficiency, the IDSA defends the practice, saying that guidelines are most valuable when "there is no clear-cut support" because they "assist" physicians who would otherwise be "paralyzed." But recommendation strength should reflect evidence strength.  Strong recommendations suggest scientific certainty. Yet, 37% of the IDSA's STRONGEST recommendations are based on the WEAKEST evidence. Weak evidence requires treatment options and clinical discretion, not restrictions and control. As one of the researchers, Dr. Lee, said, physicians faced with poor evidence should be "reviewing the primary literature and using one's clinical judgment rather than relying solely on recommendations." A commentary accompanying one of the studies by Dr. John Powers of the NIH makes the point that evidence in medicine is about probabilities rather than absolutes and that recommendations should reflect this. 
The concept behind evidence based medicine is to provide objective information.  The goal is to wring bias and opinion out of the equation and leave behind pure science.  That's why the emphasis is on randomized controlled trials and not on anecdotes.  But bias as well as conflicts of interest among those who sit on guidelines panels is well known.  And the point of guidelines is not to "market" the viewpoints and biases of the panel members.  It is to inform.  This means acknowledging the limits of science and divergent viewpoints.  It means allowing decisions to be made at the point of care.  When evidence is uncertain is precisely the time that physicians need to be able to rely on their clinical expertise, training, and clinical judgment.  It is when treatment options should be preserved for the patient. 
The Cochrane Collaboration, a leader in true evidence based medicine, defines "Eminence-based medicine" as guidelines that emphasize the "clinical judgment of a "thought leader," rather than on systematic, reproducible review of evidence.  Eminence is not evidence, it is power.  When it is used to shut down treatment options for patients with Lyme, it is an abuse of power that harms patients.

You can read more about the criticism of the IDSA guidelines in a Reuters article by Fredrick Joevling: Medical "best practice" often no more than opinion.
The IDSA's response to the criticism is by the old head of guidelines development, Dr. File, and his successor, Dr. Deresinski, for the IDSA:
File TMJ. Guiding in the Face of Minimal Evidence: A Strength, Not a Weakness, of Graded Clinical Practice Guidelines. Infectious Diseases in Clinical Practice. 2010;18(3):151 10.1097/IPC.0b013e3181dce63d.
Deresinski, S. (2010) Guiding clinical care through evidence-free zones. Clin Infect Dis 51, 1157-1159 DOI: 10.1086/656736
The two research studies criticizing the level of evidence behind the IDSA guidelines are by Dr. Lee et al. and Dr. Kahn et al, both members of the IDSA.
Lee DH, Vielemeyer O. Analysis of Overall Level of Evidence Behind Infectious Diseases Society of America Practice Guidelines. Archives of internal medicine. 2011 January 10, 2011;171(1):18-22.
Commentary to Lee article: Powers JH. Practice guidelines: belief, criticism, and probability. Archives of internal medicine. 2011 Jan 10;171(1):15-7.
Khan AR, Khan S, Zimmerman V, Baddour LM, Tleyjeh IM. Quality and strength of evidence of the Infectious Diseases Society of America clinical practice guidelines. Clin Infect Dis. 2010 Nov 15;51(10):1147-56.
You can follow additional comments on Lyme policy at www.lymepolicywonk.org.  You can contact Lorraine Johnson, JD, MBA at lbjohnson@lymedisease.org.