LYMEPOLICYWONK: Meeting with Dr. Ben Beard of the CDC–The Importance of Dialogue and Lingering Concerns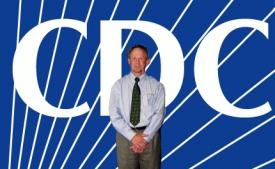 Dr. Ben Beard of the CDC met with directors of CALDA on March 10 as part of an effort to reach out to Lyme patient groups across the nation. After meeting with CALDA, he attended the regularly scheduled meeting of the California State Lyme Disease Advisory Committee, which was created under legislation sponsored by CALDA to encourage dialogue with the California Department of Public Health. If you have not met Ben Beard before, he is both engaging and likable and has a measured tone. CALDA believes that respectful dialogue is essential to moving forward for the Lyme community, and we are pleased with this first step. We also believe that patients need to be meaningful participants in any solution for Lyme disease. We raised a number of concerns about the CDC's Lyme disease policies, including the need to treat to cure disease, the education of physicians and government funding of research. Here are the issues that loom large.
Prevention: In his presentation, Dr. Beard emphasized that the CDC sees its primary role as focused on preventing Lyme disease.  Patients support this goal.  However, sick patients need access to treatments now that may restore their health.  Treatment options need to remain open while science is unfolding.  This is where we believe the primary goal should be set.
Educating Physicians:  One of the CDC's goals is the education of physicians.  Sounds good, right?  Until you know the details, which are not overtly stated.  
The CDC currently has an IDSA training module on its website and links to the IDSA guidelines. Two studies conducted by IDSA members found that the IDSA treatment guidelines for many different diseases are based on very low levels of evidence-more than half of their recommendations are based on no more than expert opinion and anecdote. This is also true in the IDSA's Lyme disease guidelines, where 38 of the 71 recommendations are based on expert opinion or anecdote and many others are based on very low levels of evidence. 
So, despite the fact that IDSA promotes its treatment guidelines as "evidence based", those guidelines fall far short of the mark. And, where the evidence is lacking, conflicted, or poor, the IDSA guidelines prohibit treatment.  This ties the hands of physicians and patients who remain ill. Treatment failures under the IDSA guidelines are unacceptably high. IDSA does not recognize or treat chronic Lyme disease, and it doesn't provide treatment options to patients who remain ill after IDSA treatment protocols fail, as those protocols do too often. Educating physicians to conform to the IDSA guidelines harms patients.  If this is what the CDC means by education, we'd rather have them stick to prevention, honestly, under the principle of first do no harm.
Funding of a 5 year study on chronic Lyme:   Dr. Beard's presentation also highlighted the CDC's funding of a 5 year study looking at long term complications of Lyme disease. Sounds good, right? Until you realize (again not overtly stated) that the funding was granted to Dr. Gary Wormser–the lead author of the IDSA guidelines who was described by the Connecticut Attorney General as holding "a bias regarding the existence of chronic Lyme disease". Preconceived viewpoints held by researchers may drive study design, execution, and conclusions.  Dr. Wormser's views on the topic of long term complications of Lyme disease are probably best summarized by the IDSA guidelines he penned: "In many patients, post-treatment symptoms appear to be more related to the aches and pains of daily living rather than to either Lyme disease or a tick-borne co-infection."  Moreover, this study looks an awful lot like the Nowakowski study that Wormser participated in, published in 2003, which concluded that after 5 years, 90% of patients no longer have symptoms.
This conclusion conflicts with those of many other studies (Ashe, Trieb, Shadick) which show between 28-50% of patients have persisting symptoms years after treatment.  The discrepancy is probably explained by the fact that in calculating the 90% success rate, the Nowakowski study failed to use the appropriate "intent to treat analysis" to account for its 39% drop out rate.  Using the proper intent to treat analysis on Nowakowski would increase the percentage of patients who remain symptomatic from 10% at 5 years to 55%, which is more in keeping with previous studies.  These statistical choices can make all the difference in the world and the bias of a researcher may influence the method of analysis chosen.
Make no mistake, dialog is important, but so long as the CDC continues to promote the IDSA viewpoint, exclude patients from meaningful participation in health care policy, and fund studies by researchers with known biases, the CDC will continue to be viewed as part of the problem rather than part of the solution for Lyme disease.
You can contact Lorraine Johnson, JD, MBA at lbjohnson@lymedisease.org.