LYMEPOLICYWONK: CALDA CALLS ON NIH TO STOP TICK FEEDING STUDY ON ETHICAL GROUNDS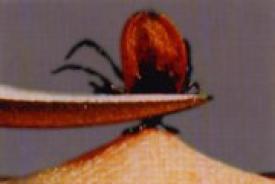 CALDA has just sent a letter to National Institute of Allergy and Infectious Diseases (NIAID) asking them to pull the plug on an experiment that threatens to harm Lyme patients. The study involves allowing live tick larvae to feed on patients. It is impossible to ensure that ticks are truly sterile and do not carry unidentified pathogens. In addition, tick saliva as well as Borrelia burgdorferi suppress the immune system of patients. Both factors place patients who enroll in the study at risk. Because of this, we feel the study is unethical and could harm patients. Keep reading for details. . .
A significant number of Lyme patients who receive antibiotic therapy have persistent symptoms. There is currently no test that can determine whether treated patients continue to have active infection.  The NIH is recruiting patients with chronic Lyme symptoms to see if active infection can be determined by xenodiagnosis.  (NIH Protocol Number 10-I-0139 (ClinicalTrials.gov Identifier NCT01143558), "Searching for Persistence of Infection in Lyme Disease)
Tick xenodiagnosis essentially uses ticks to confirm infection. This study allows researchers to place tick larvae to feed on patients. The theory is that the tick will pick up Lyme bacteria, which will multiply in the tick so researchers can detect them more easily by PCR or other means.
The researchers attempt to reduce these risks by using newly hatched larval ticks raised in a laboratory that don't carry known pathogens.  But not all tick pathogens have been identified and some are transmitted from female ticks to their young without a blood meal. In fact, since the discovery of Lyme in 1981, researchers have identified more than 15 tick-borne bacteria that weren't known before.  Ticks may also carry viruses and protozoa. 
Allowing tick larvae to feed on patients may expose them to yet-unidentified diseases.  Indeed, one of the purposes of the study is to "assess the safety of the planned xenodiagnostic procedure in humans."   Because of the safety risks to patients, CALDA believes this study is unethical.
Please stay tuned for future updates on this.
You can follow additional comments on Lyme policy at www.lymepolicywonk.org.  You can contact Lorraine Johnson, JD, MBA at lbjohnson@lymedisease.org.