TOUCHED BY LYME: (book review) "How to be sick"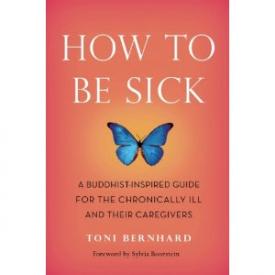 This book is not about how to get sick or how to stay sick. It's about how to "be" when you are sick. How to have a worthwhile existence, finding meaning, purpose and joy, even when chronic illness seems to have stolen your life away.
.
.
.
.
.
.
.
.
.
.
Reviewed by Dorothy Kupcha Leland:
How do you respond to the book title How to be sick? I'm guessing many folks with chronic Lyme disease would think something like this: "Geez, I've already got the 'being sick' part figured out. How about something on getting well?"
However, Toni Bernhard's book entitled How to be sick: A Buddhist-inspired guide for the chronically ill and their caregivers (Wisdom Publications, 2010) is not about how to get sick, or how to stay sick. It's about how to "be" when you are sick. How to have a worthwhile existence, finding meaning, purpose and joy, even when chronic illness seems to have stolen your life away. 
It's a tall order. And one that many chronically ill people (and their caregivers) may feel too overwhelmed even to contemplate. Yet, Bernhard found that certain ways of being helped her through the dark tunnel. In effect, dealing with chronic illness became her spiritual practice, and she has valuable insights to offer others in the same condition.
Some background: A long-time student of Buddhist meditation, Bernhard had a happy home life and a satisfying career as a UC Davis law school professor. Then, in 2001, she and her husband flew to Paris for what was supposed to be a romantic vacation. She fell ill on the trip with mysterious, debilitating symptoms from which she has never recovered. To this day, she spends many of her hours house-bound, often bed-bound, with what has been diagnosed as Chronic Fatigue Syndrome.

As her job, her friends, and her place in the community all fell away, Bernhard felt increasingly bereft and isolated on top of being sick, and turned to her Buddhist practices to help her deal with it all. By appreciating the gifts of the present moment, developing compassion for herself and her new limitations, and aiming for the Buddhist ideal of "the Middle Way," she found she could achieve equanimity.

She writes: "The key to wise action for the chronically ill, then, is to avoid extremes. If we veer too far to the one side and act as if we have the stamina and physical abilities we used to have, we risk overexertion that could land us in bed for days. But if we veer too far to the other side of the road (for example, lie in bed in a fetal position, as I did for several months early on in my illness), we risk falling into despair."

Not falling into despair is an important theme in Bernhard's story and she walks readers through her own process for accomplishing that. Some chapter titles include: "With our thoughts we make our world," "Getting off the wheel of suffering," and "The struggle to find community in isolation." (Hint: the internet helps a lot with that last one.)

How to be Sick is a touching memoir of Bernhard's personal spiritual journey through her illness and how she ultimately found solace and coping skills through her Buddhist practices. It's kind of a love story, as well, painting a tender portrait of the ways her husband (also named Tony Bernhard) has steadfastly supported her through this ordeal. She dedicates the book to him.
*****

Extra note from reviewer to author: Toni, many people with symptoms like yours turn out to have Lyme disease, and subsequently improve after appropriate treatment. From your book, I know you've spent time in places that are highly endemic for Lyme and co-infections. It doesn't sound like you've been evaluated by a Lyme-literate doctor—one with the knowledge and experience to recognize the complexities of tick-borne illness. (Sad truth: mainstream medicine can't help you here.) You are a two-hour drive from some of the top Lyme specialists in the country. In my opinion, it would be well worth your while to get checked out by one of them.
You can contact this blogger at dleland@lymedisease.org.
.