LYMEPOLICYWONK: IDSA FINAL REPORT END OF APRIL!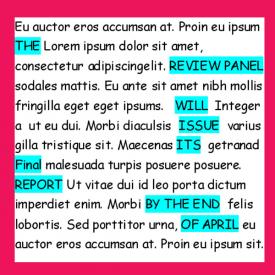 The IDSA will issue its final report by the end of April. Did you catch that? Yes, it made an announcement and buried it deep within its website for enterprising spelunkers to find. I think this was another attempt to "not communicate something important." Someone did find it though and posted it on the web. People joined in. They asked, "How on earth did you find that?"
How do you communicate without, well, actually communicating?  The IDSA has mastered this art.  This was how they told us Weinstein had been taken off the guidelines panel because he had already written a set of guidelines and wasn't eligible to serve on it.  Oh, wait, they didn't tell us that last part—they simply took his name off the list.  Same thing with Paul Duray's resignation from the panel.  Deleted from a list, an old list.  The list of original panel members.  Ever notice how the IDSA did not announce or acknowledge the 1,600 page peer-reviewed scientific evidence of ILADS?  If you want information from the IDSA on what is going you need to forage for it.  Reminds me of the old elementary school  "word search puzzles"—only this isn't a game and these are adults.
If you have a spelunker's hat on and want to see the original source—here it is.   Look closely.  It is truly buried.  Our school teachers once taught us to "eschew obfuscation, espouse elucidation."   A lesson lost on the IDSA.  Peter Drucker once said, "The most important thing in communication is to hear what isn't being said."  True.
You can contact Lorraine Johnson, JD, MBA at lbjohnson@lymedisease.org.