TOUCHED BY LYME: Quilting about life in the Lyme lane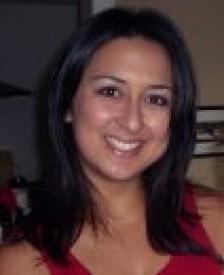 Thirty-three year old Nani Lauriano Luculescu is a fabric artist with a vision. She wants to create a quilt—perhaps a series of quilts—to give the world a glimpse of what people with Lyme disease go through every day. And she wants YOU to help her do it.
Nani is asking people to send digital photos of themselves living their lives with Lyme. For some people, the photos might show all your medications lined up in a row. Or getting hooked up to an IV.
"Anything they deem Lyme-related," Nani says. "They can be as creative as they want. I want to see what they are going through and what their daily life is like."
How about showing the odometer of your car, depicting how many miles you drive to your Lyme doctor? Or the screen of your computer, open to your on-line Lyme support group? Your stack of Lyme Times? A package of gluten-free crackers? Maybe that pile of laundry that's accumulating because you just don't feel up to dealing with it.
Nani began a crash course in Lyme when her dad apparently became infected two years ago on a fishing trip to

Mammoth Lake

,

California

. Even though he told his doctor that he'd received several insect bites, Nani says, "his doctor dismissed his concerns and didn't even test him for Lyme."
Her dad's condition deteriorated rapidly and he was soon diagnosed with ALS. Eventually he received a Lyme diagnosis, and showed improvement on IV Rocephin. Until his insurance company put a stop to that.
"The suffering that a Lyme patient goes through is incredibly painful and consuming," Nani notes. "I see how my dad struggles to rise from a chair and walk just a few feet.  He can no longer work, help around the house or care for his beloved dog, Bo….He had a stair lift installed, so he can make it upstairs to his room safely.  He winces in pain with each step he takes.  He spends hundreds & thousands of dollars on supplements, medications & treatments intended to improve his health." 
Her dad's struggle inspired the mother of two toddlers to do her own research about Lyme. She joined yahoo groups and "was blown away at the number of people who had the same sad story as my dad."
She watched last summer's IDSA Lyme hearing, viewed Under Our Skin, and started writing about Lyme on Facebook. Then she got the idea of making quilts about Lyme disease. (She already quilts and makes cloth handbags and wallets. You can view some of her work here.) She plans to transfer the Lyme photos to fabric, and stitch them into a quilted image of life in the Lyme lane.
Won't you help her in this effort?
You can email your photos to nani@VictoriousVixen.com.

 

Include contact information, in case she has questions about your photos. Members of Facebook can post the pictures directly on her wall.
You are also invited to mail small Lyme-related objects which can be sewn onto the quilt as well. (Think the size of a pill bottle—not the size of a wheelchair or walker!) Items can be sent to:
Nani Luculescu


P.O. Box 2404




Cypress

,

CA

90630
Here's another idea: how about scanning one of your insurance denial letters? Or sending her a picture of your empty wallet?
Blogger Dorothy Kupcha Leland can be reached at

dleland@lymedisease.org.