TOUCHED BY LYME: When Lyme hits people in their twenties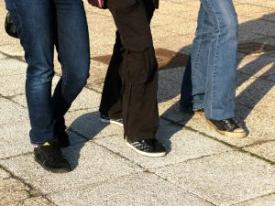 How do college students and other young adults cope with Lyme at this transitional time of their lives, when they would hope to be finishing school, starting work, and forming new relationships?
A young woman named Megan recently raised a compelling topic on one of the Lyme discussion groups: how do college students and other young adults cope with this disease when they are supposed to be getting on with their lives? She gave me permission to share her post with you here.
A bit of background: Megan is 23 and may have had Lyme her entire life, but symptoms didn't hit with a vengeance until college. Misdiagnosis and improper medical treatment added to her difficulties, as she struggled with her health throughout college. She was finally diagnosed with Lyme near the end of her senior year, managed to graduate and is now under treatment for Lyme disease. Here are her words:
I guess I'm just curious if anyone out there falls into the 20-25 range? It's strange having this new illness to deal with at the same time as being at the point in my life where I am suppose to be moving forward and having this great transition from school into independence and the working world, only I have barely any energy to do what I should be doing and most of the "transition" part of my life is on hold for now until I start feeling better.
If there is anyone else at a similar point in their lives (either college or within a year or so after),  I'd be curious to know how you are grappling with these challenges i.e. what kind of work you are able to handle in order to earn some money, what helps you concentrate on schoolwork when you feel foggy-headed, etc.

Sometimes it seems a challenge even to have the energy to get dressed in the morning so I can do a few simple tasks like running errands or finding out about grad school programs in the area. Other days are a little better and I feel like I can handle a little more, but unfortunately I have only been in treatment for a little over a month (Bicillin injections once a week)and the days of feeling clear-headed with any energy are still pretty sparse and I don't feel much effect from the treatment yet.

Any insight from anyone else dealing with anything similar would be very helpful if only just to know how other people dealing with similar issues are grappling with them and any tips you might have.
Megan's posting elicited a flurry of comments. Among them:
The best advice I can give you at this time is keep as many of your old friends as you can and try to make new ones. Because we don't have the opportunities to get out and live life like other people our age it's really easy to become isolated fast.  
Many people recommended attending Lyme support groups (though availability depends on where you live). And joining on-line groups for your own interests and hobbies.  One person offered a more innovative spin:
Try craigslist.com 'activity partners', activities can be anything from short walks, to shopping together or listening to music or reading books outloud, playing board games or computer games, cooking together, etc…
Someone also suggested starting an on-line chat group for young adults with Lyme.
Any other ideas out there? Please feel free to use the comment section at the bottom of this blog page, or, if you prefer, email them to me at dleland@lymedisease.org.
This is a topic that merits further discussion.