Inspecting yourself for ticks? Study says check your thighs first.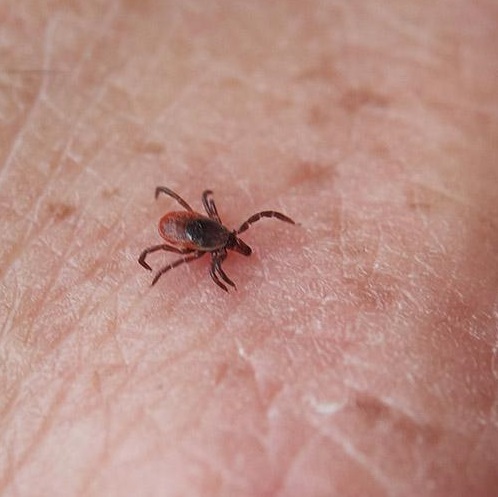 by Darryl Geddes, Upstate Medical University
If you've just returned from a hike in the woods and are checking your body for ticks, check your thigh first.
In a recent survey by Upstate Medical University's Citizen Science Tick Testing Program, Central New Yorkers reported finding ticks in various areas of the body, but most ticks were found on the thigh.
However, the ticks that were found on the upper back were the most likely to carry the Lyme disease agent, according to the survey.
Upstate's Citizen Science Tick Testing Program, which began a new round of data collection this year, asked members of the public to send in ticks they find to be tested for Lyme and other disease-causing agents. If individuals find the tick on their body, they are asked to indicate where on the body the tick was found.
Out of 722 deer tick submissions that were found attached to a human, obtained from March to July, 15.8% were reported to be found on the thigh. The next top three locations were around the waist (7.6%), stomach (7.6%) and groin (6.6%).
"This is not surprising," said Saravanan Thangamani, PhD, professor of microbiology and immunology at Upstate and director of the SUNY Center for Environmental Health and Medicine.
"Ticks are attracted to warm, moist areas of the body, and most likely climb to these areas on the body to feed," he said.
Rounding out the top 12 locations are upper back (6.6%), scalp (6.5%), calf/shin (6.2%), upper arm (5.9%), behind the knee (5.9%), and armpit (5.1) neck (5%) and lower back (4%). Ticks were also found on the chest, shoulder, in or around the ears, lower arm or wrist, ankle, hand, face, inside belly button and foot.
Why you need to check the whole body
When researchers tested ticks for disease, the ticks that were found on the upper back were the ones most likely to carry the Lyme disease agent, followed by stomach (23.6%), behind the knee (22.7%) and thigh (20.9%).
Thangamani said the reason for offering this information is to inform the public of the most likely places on the body ticks are found. "When someone comes inside from being out in areas that ticks are prevalent, it is important to inspect your body and look for ticks."
The best way to remove a tick is to use fine-tipped tweezers to grasp the tick close to the skin's surface as possible. Pull upward with steady, even pressure.
Some ticks carry disease, which can have a devastating effect on one's health if not treated appropriately and in a timely fashion. That's why it is so important to take precautions when venturing outside, Thangamani said.
If heading outdoors, Thangamani suggests treating one's clothing with permethrin, making sure to especially treat shoes and socks. As an added precaution, he suggests applying a tick repellent to the skin.
Unlike mosquitoes that are mainly a nuisance in the evenings, ticks are always active. "They are out there waiting for you to walk by," he said.
An earlier study by Thangamani's research team of more than 5,000 ticks samples from across New York, found that nearly one-third of ticks were carrying Lyme disease.
Upstate's Citizen Science Tick Program continues to take tick submissions. Click here for information on sending in a tick.
PRESS RELEASE SOURCE: Upstate Medical University