Her paintings focus on her personal experience with Lyme disease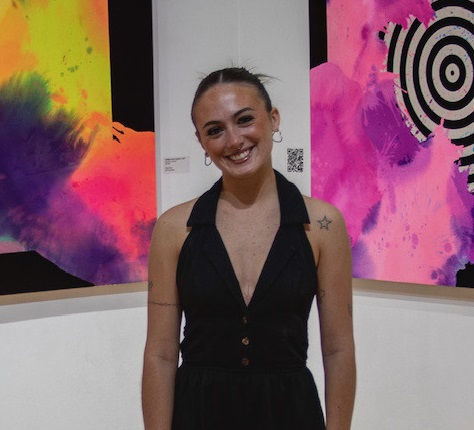 Artist Riley Sims, a graduate of Indiana's Ball State University, recently displayed her thesis art project, "A Single Tick," at the campus art gallery. The following artist's statement accompanied the exhibition.

"A Single Tick" focuses on my personal experiences with Lyme disease and aims to bring attention to the lack of funding and research surrounding this debilitating illness.
I was diagnosed with Lyme disease years after suffering from chronic pain and other symptoms. Unfortunately, my doctor was only looking for the classic bullseye rash as an indicator of the disease, which was not visible on my body at the time. If the medical community had more information and funding for research, perhaps more doctors would be able to identify the disease earlier and provide better treatment options.
Through my work, I teach people what to look for when it comes to Lyme disease so they can catch it in time, such as joint pain, fatigue, and a weakened immune system. My ultimate goal is to raise awareness and funding for research so that one day we may find a cure for this illness.
Maintaining a strong mindset
My artistic vision is to move people through my work, even if they have not personally experienced Lyme disease. I want my audience to be able to relate to the themes of my work, such as finding a balance between positivity and negativity and maintaining a strong mindset in the face of adversity. By creating a connection with my viewers, I inspire them to take action and support the cause.
In creating my thesis exhibition, "A Single Tick," I use my process as a form of therapy and as an outlet to express my frustrations and struggles. The action-based technique of soak staining allows me to express my emotions powerfully and viscerally, where I splash and throw diluted paint onto raw canvas. I use bright colors to represent joy and optimism and black repeated elements to symbolize the invading bacteria and negative thoughts associated with Lyme disease.
There are many days when I cannot make art due to a flare-up of my Lyme disease symptoms, and on the days that I can I use the repeated movement of the brush strokes to meditate and relax. These repeated elements in my work represent the ongoing struggles and frustrations of living with Lyme disease, but they are intertwined with bright colors to show that there is always hope and positivity even in the darkest of times. By overlapping and weaving these elements together, I aim to represent the balance between the positive and negative aspects of life and the importance of maintaining a positive mindset when dealing with chronic illness.
"A Single Tick" is a powerful expression of the daily struggles and victories that come with living with Lyme disease. Through my thesis exhibition, I bring awareness, inspire others, and encourage action toward funding research for a cure. Lyme disease is a debilitating illness that affects so many people, and by raising awareness and creating a connection with my audience, I want to make a difference in the lives of those affected by this disease.
See more of Riley Sims' art on Instagram: artist_rileysims .