TOUCHED BY LYME: "Project Censored" lists Lyme disease epidemic as one of 2011's most under-reported stories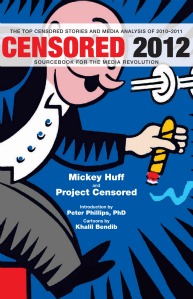 Every year, "Project Censored," a news-monitoring research program affiliated with Sonoma State University in California, produces a Top-25 list of underreported news stories. These are also included in an annual book, "Censored," dedicated to news stories that ought to be widely reported but are not.
According to the group's website, the mission of Project Censored is to teach students and the public about censorship in the mass media. "On a daily basis, censorship refers to the intentional non-inclusion of a news story – or piece of a news story – based on anything other than a desire to tell the truth. Such manipulation can take the form of political pressure (from government officials and powerful individuals), economic pressure (from advertisers and funders), and legal pressure (the threat of lawsuits from deep-pocket individuals, corporations, and institutions)."
Number 21 of Project Censored's top-25 is the Lyme disease epidemic. From the website:
Lyme disease is one of the most political and controversial epidemics of our time. Lyme originates from a bacteria transmitted through the bite of a tick and can remain hidden – often being called the great imitator – mimicking other diseases such as Multiple Sclerosis, ALS, ADHD and other neurological conditions.  And it is growing – new cases of Lyme occur each year at a rate ten times higher then that of AIDS and the West Nile Virus combined.
Current Lyme treatment guidelines were developed by the Infectious Diseases Society of America (IDSA), a group associated with pharmaceutical, insurance and university interests that are profiting from the diagnostic criteria, vaccines and recommended treatments for Lyme. These guidelines, endorsed by the National Institute of Health and the CDC, define the treatment of Lyme as a two to four week course of antibiotic therapy.
Physicians who believe Lyme is a more chronic condition needing long-term treatment, risk losing their medical license for treating patients outside IDSA guidelines. And insurance companies refuse to pay for longer treatments despite evidence that illustrates the chronic nature of the condition and the effectiveness of long-term therapies. This leaves thousands of Lyme patients suffering from a commercialized medical community that won't acknowledge the chronic nature of their illness and the public uneducated about a growing epidemic.
As sources, the website lists the Lyme Disease Association (LDA), International Lyme and Associated Diseases Society (ILADS), the documentary film "Under Our Skin," the Centers for Disease Control (CDC), and Health Watch news reports from CBS-San Francisco. (Note: I remember that 2-part TV news series. It focused on a Lyme patient's difficulty in getting insurance coverage for her IV Lyme treatment. It came about because the patient contacted the TV station. See, readers, one individual CAN make a difference.)
Between 700 and 1000 stories are submitted to Project Censored each year from journalists, scholars, librarians, and concerned citizens around the world. With the help of more than 200 Sonoma State University faculty, students, and community members, Project Censored reviews the story submissions for coverage, content, reliability of sources and national significance. The university community selects 25 stories to submit to the Project Censored panel of judges who then rank them in order of importance. All 25 stories are featured in the yearbook, "Censored."
Click here to read more about Project Censored.
TOUCHED BY LYME is written by Dorothy Kupcha Leland, LymeDisease.org's VP for Education and Outreach. Contact her at dleland@lymedisease.org.